Help save Puget Sound
Puget Sound faces many threats from the everyday activities of the 4.5 million people who live on or around the nation's second largest marine estuary.
---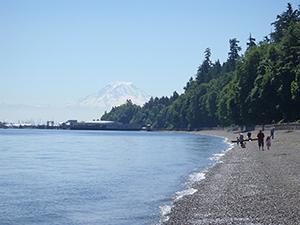 The Puget Sound region includes 2,800 square miles of inland marine waters, including 549 streams, rivers, and lakes impaired by poor water quality. More than 60 percent of water pollution comes from oil and other fluids leaking from cars and trucks; fertilizers and pesticides from farms; runoff from lawns and gardens; and fuel spills from recreational boaters. These thousands of small, dispersed sources add up to a big pollution problem.

Washington residents are proud to live here and enjoy a high quality of life. Everyone can play a part in keeping Puget Sound clean and healthy. Use these educational resources to find out what you can do to help restore and protect our inland ocean.