FV Long Island II grounding
FV Long Island II grounded in shallow waters off the beach west of a former cement plant and the cliffside area near Bellingham, WA.
Summary information
Date of incident: September 13, 2011
Location:
Off the beach west of a former cement plant and the cliffside area. Bellingham, WA
Type of incident: Estimated 175 gallons of fuel on board
Cause of incident: Grounding
Responsible party: Private party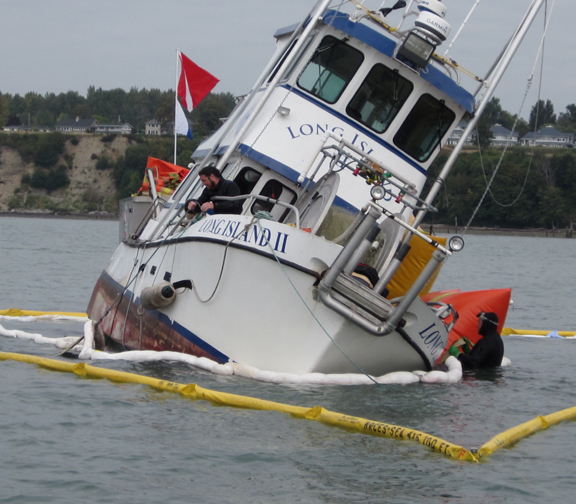 FV Long Island II grounded in shallow waters.
Status updates
September 15, 2011
The boat is about 3,000 feet offshore, north of the old cement plant and south of cliffside. The sheen continues to be light, and appears to be coming from diesel fuel leaking slowly from the fuel vents.
The owner hired Top to Bottom Diving and Marine out of Bellingham to refloat the boat and prevent and contain any additional spills. The boat should be afloat by high tide Wednesday. In the meantime, Top to Bottom will plug the vents, place absorbent boom around the boat, pump off water and anchor it so it doesn't drag along the bottom.
Ecology is working with the U.S. Coast Guard and state Department of Fish and Wildlife and Department of Natural Resources to assess the extent of contamination and damage. Ecology and Coast Guard are overseeing cleanup and boat recovery efforts.
The boat is in a sensitive area. In addition to eelgrass beds, the area provides habitat for Dungeness crab and pandalid shrimp, and Coho are passing through the area on their way to the Nooksack River. Forage fish also spawn nearby. So it's important that we're careful during boat salvage to minimize damage.
Contractor is on-scene preparing to salvage as the tide comes in today. The U.S. Coast Guard and Ecology will be on-scene to observe.
Vessel is now under tow to marina where it will be secured overnight. No sheen noted.
Vessel is now secured at the dock at Colony Wharf, Bellingham, WA.
September 14, 2011
Monday, September 12, 2011, around midnight, the Long Island II fishing boat grounded in shallow waters off the area of Little Squalicum Park and a former cement plant on the waterfront in Bellingham, Washington.
The 33-foot fishing boat was on its side Tuesday morning, September 13, in Bellingham Bay. A good Samaritan helped get the crew off the boat.
The boat had a slight sheen around it. Ecology is determining the best way to handle any fuel leaks in the shallow waters. The boat has a fuel capacity of about 200 gallons and was believed to be carrying about 175.
Ballard Diving & Salvage out of Seattle has been hired to re-float the boat.