Sea Boar tug sinking
The Sea Boar, a 28-foot booming vessel, was raised out of the water at Terminal 5.
Summary information
Date of incident: November 21, 2009
Location:
Terminal 5, Seattle, WA
Type of incident: Diesel/Undetermined
Cause of incident: Under investigation
Responsible party: NRC Environmental Services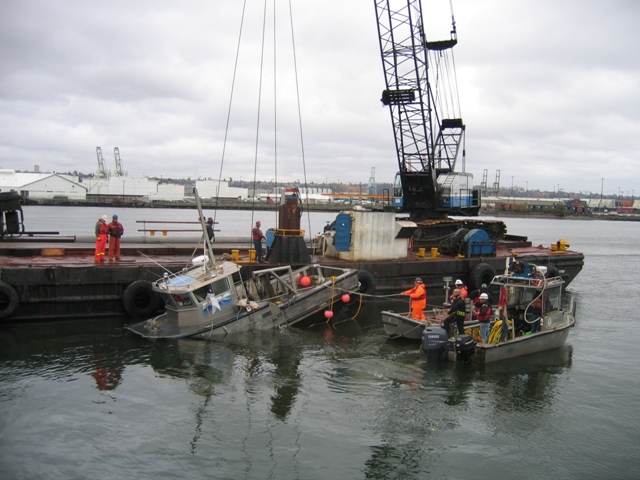 The Sea Boar being raised out of the water. Photo by Dick Walker, Ecology.
Status updates
November 23, 2009
At about 1:30 p.m. on Sunday, November 22, the 28-foot booming vessel was raised out of the water near the location where it sank at Terminal 5.
Divers from Ballard Diving determined the vessel was sitting upright on the bottom near where it sank. The vessel was lifted out of the water by barge crane and taken away by barge for repairs.
Narrow vents on the Sea Born kept all but a small, undetermined amount of diesel fuel from being released during the salvage operation. The fuel that escaped created a thin, unrecoverable sheen on the water.
As a precaution, oil containment boom was placed around the site which helped keep the sheen from spreading. The small amount of fuel dissipated quickly.