Steilacoom Marina fire
Fire at an old Steilacoom marina, with responders from several environmental agencies on scene.
Summary information
Date of incident: October 9, 2009
Location:
Steilacoom marina near Saltar's Point, Pierce County, WA
Type of incident: Unknown
Cause of incident: Under Investigation
Responsible party: Under Investigation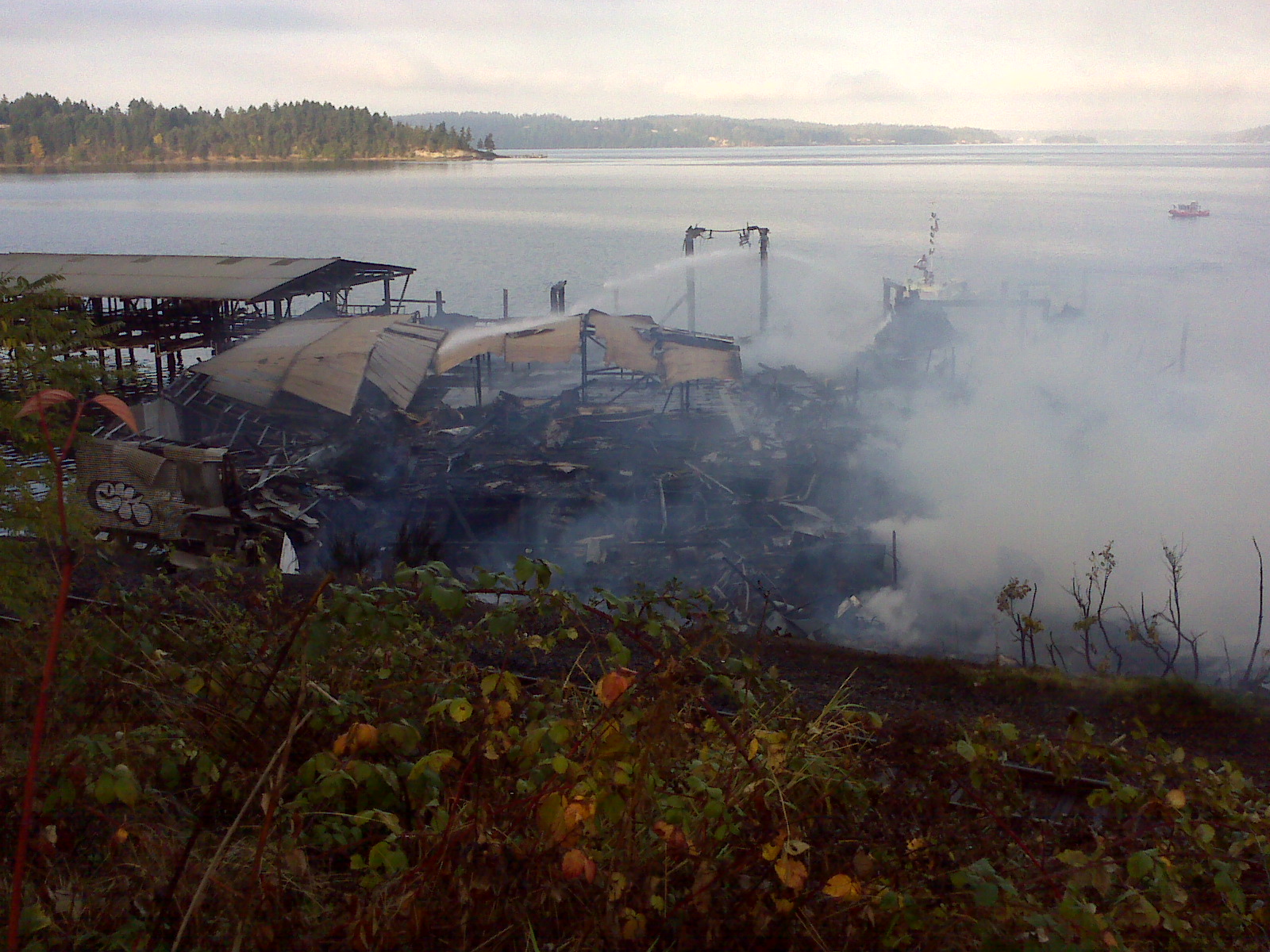 Fire at Steilacoom Marina. Photo by Jim Sachet, Ecology.
Status updates
October 9, 2009
While this morning's fire at an old Steilacoom marina continues to smolder, responders from several environmental agencies are on scene.
Staff from the Washington departments of Ecology and Fish and Wildlife have been checking for signs of oil pollution and any impacts to fish, birds and other animals that live along the shoreline. The U.S. Coast Guard also responded this morning.
A helicopter overflight of the area revealed charred debris strewn along the shoreline north of the marina. Responders also noted silver ribbons of petroleum trailing the debris field. Ecology spills experts say the petroleum is unrecoverable, and the fire likely consumed much of what was in the tanks of the vessels that caught fire.
Based on their initial assessment, Fish and Wildlife biologists do not believe the sheen of petroleum outside the boomed area of the marina poses a significant risk to fish or wildlife.
Ecology hired contractor NRC Environmental Services (NRCES) to place protective boom around the entire burned-out marina structure to keep debris from floating further out into the sound once all fire boats clear the scene.
Media Contacts: Kim Schmanke, Ecology media relations, 360-407-6239 (desk) Craig Bartlett, Fish & Wildlife media relations, 360-902-2259 (desk)