Recycled content minimums
Washington's plastics law requires producers of many common products sold in plastic packaging to register with us by April 1 of each year, pay annual fees, and include a minimum amount of recycled plastic in their plastic product packaging.
Starting Jan. 1, 2023:
Plastic trash bags

10% minimum for recycled content
Trash bag labeling requirements

Plastic beverage bottles (except for dairy and 187ml wine)

15% minimum for recycled content
Products required to meet recycled content minimums
Plastic beverage bottles
Plastic trash bags
Plastic bottles for household cleaning and personal care products
Rulemaking may alter some of the definitions, including the scope of products that must meet post-consumer recycled content (PCRC) minimum requirements. The rule will be adopted in late 2023, and any changes resulting from rulemaking will take effect at that time.
Minimum-content requirements drive demand for recyclable materials
The circular economy is incomplete without end markets, no matter how efficiently we collect and sort materials for recycling. Setting minimum-content requirements for recycled content will help support those markets.
Definition of "post-consumer recycled content"
Post-consumer recycled content (PCRC) is a technical term for recycled plastic generated by the end-users of plastic products. End-users include households, as well as commercial, industrial, and institutional facilities. PCRC also includes returns of material from the distribution chain.
This differs from pre-consumer material which is defined as "material diverted during a manufacturing process."
Trash bag labeling requirements start Jan. 1, 2023
Producers must label each package containing plastic trash bags sold or distributed in Washington with:
The name and location of the producer (city, state, and country),
OR
A uniform resource locator or quick response code to a website that contains this information.
Who is the producer?
Producers must take responsibility for all the requirements of the law for all brands that they own. This applies even if the product is manufactured by someone other than the brand owner, another person registers on their behalf, or if the producer owns brands under a different name. Every non-exempt covered product must have one designated producer.
Unless provided with evidence otherwise, we will assume the brand owner is the producer.
Some producers start reporting PCRC in 2024
Beginning April 1, 2024, beverage and trash bag producers must submit an annual report along with their annual registration. The report must include the percentage of PCRC and virgin plastic resin type contained in all products sold or distributed in Washington.
Other covered products will be required to meet PCRC minimums at later dates.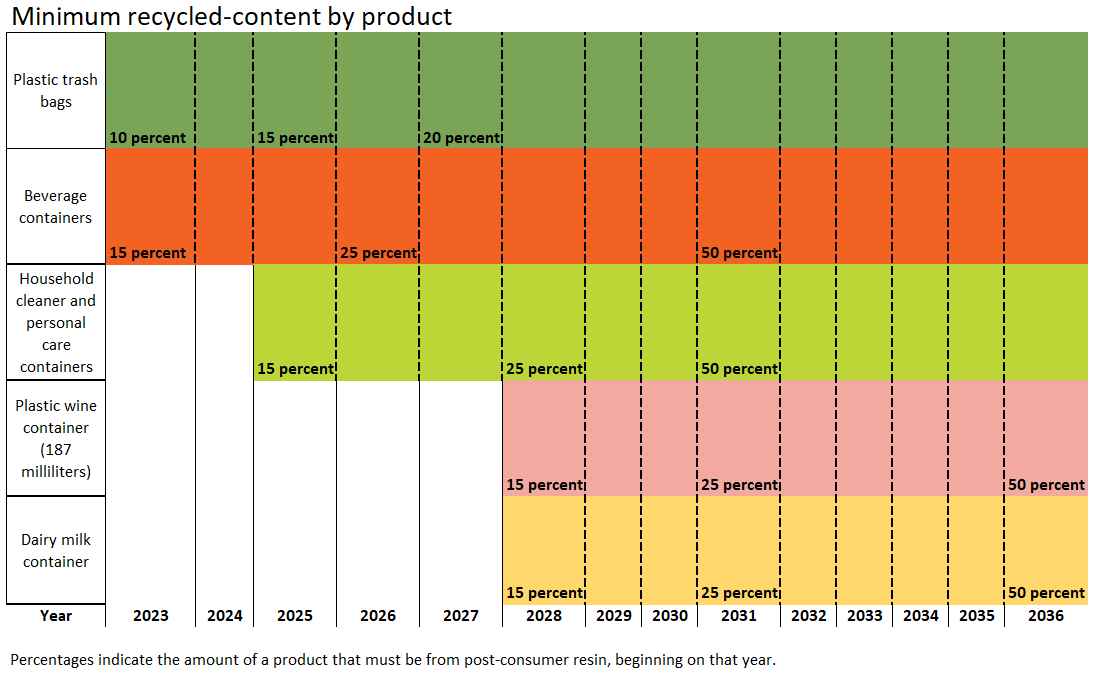 Apply for temporary exclusion for 2024
Plastic producers may annually submit requests for temporary exclusion from the PCRC minimum requirements after their registration has been submitted. We will grant exclusions to producers that demonstrate a legal conflict with the PCRC requirements and a federal health or safety requirement which makes it infeasible to include PCRC in the plastic packaging. The plastic-producer registration is due on or before April 1, 2023. Producers of products temporarily excluded from PCRC requirements must still register, report, and pay fees.
The form to apply for temporary PCRC exclusion can be found within the Waste Reduction portal via SecureAccess Washington (SAW).
Federally regulated products
There are no blanket exclusions for federally regulated products, except for dietary supplements and FDA-regulated drugs. Plastic producers who believe a federal regulation renders the inclusion of PCRC in their product packaging technically infeasible must submit a request for exclusion using a form in the registration portal, after the annual registration has been submitted.
The temporary exclusion processes
Requests granted by us will apply to packaging produced the in the following year, 2024, and for data reported in 2025.
The form to request exclusion requires citation of the federal regulation that applies and an explanation as to why the regulation is specific to the material composition of the packaging and makes the incorporation of PCRC into a specific product technically infeasible while complying with the health or safety federal standard.
Producers who receive approval temporary PCRC exclusion on this basis will be flagged in the registration system, so that when they report in 2025, but do not meet the PCRC minimum-percentage requirements, they are not considered noncompliant.
If granted, the exclusion only applies to the PCRC minimum-percentage requirements. Plastic producers granted temporary exclusions must still report and pay fees on these products.
Annual fees for producers
By the end of January each year, the recycled content team will publish an annual workload analysis (WLA). The WLA will summarize the agency's estimated costs to oversee the state's PCRC program for the upcoming fiscal year.
Fees are based on each producer's total weight of plastic resin sold or brought into Washington, as submitted during annual registration or reporting.
Our annual WLA is open for public comment until March 3, 2023. The WLA identifies our costs for the upcoming fiscal year. We will divide these costs to determine each producer's "fair share" of annual fees.