Pettit Oil truck spill
Responders from multiple agencies are on the scene of an overturned tanker-truck on Highway 101 near Forks. The accident caused an unknown amount of fuel to a get into a seasonal tributary of Fletcher Creek, which flows into the Hoh River.
Summary information
Date of incident: February 23, 2011
Location:
U.S. 101 northbound, approximately one-half mile south of Lower Hoh Road at Mile Post 167
Type of incident: Diesel - 4,300 gallons spilled (estimated)
Cause of incident: Under investigation
Responsible party: Pettit Oil Company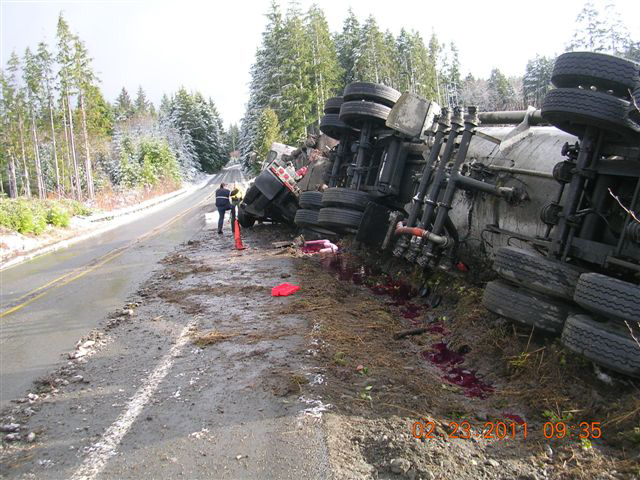 Pettit Oil Company truck on side of Hwy 101 near mile post 167. Photos courtesy of Washington Department of Transportation.
Status updates
February 28, 2011
Response winding down at site of U.S. 101 fuel spill
Within a few more days, most of the active cleanup will be complete along U.S. 101 in Jefferson County from the February 23, 2011, truck accident that spilled several thousand gallons of diesel 25 miles south of Forks.
Environmental contractors estimate most of the fuel has been recovered.
The longer term response will focus on water quality monitoring of Chalaat Creek. Its upper reach was impacted by the fuel spill. The creek supplies water to the Hoh Tribe fish hatchery, 2.5 miles downstream from the spill site.
Pettit Oil and its contractors are working closely with the Hoh Tribe Natural Resources Department to ensure their concerns are being fully addressed during the response process. The Washington Department of Ecology and Jefferson County Public Health will oversee the full cleanup.
A carbon filtration system is installed on the hatchery intake and is on standby in case water samples indicate it is needed. For now, samples taken twice daily at two locations on the creek have not detected any fuel.
On the morning of February 23, a northbound Pettit Oil fuel truck-trailer overturned near milepost 167 on U.S. 101. Diesel fuel spilled from the trailer into a ditch, adjacent road shoulders, and some flowed underneath the highway into a creek and wetland.
Contaminated soils on both sides of U.S. 101 at the accident scene have been removed and backfilled.
Traffic had been limited to single-lane with the aid of a flagger and pilot car. The road is open in both directions in the evening hours, and a pilot car is still being used to guide traffic through while crews are working on the shoulders.
February 25, 2011
Cleanup work continues over the weekend for fuel spill near Forks
Efforts to address the environmental impacts of a fuel spill earlier this week will continue through the weekend along U.S. 101 south of Forks.
Crews from the state Department of Ecology, Department of Fish and Wildlife and the U.S. Enviromental Protection Agency are working with the Hoh Tribe and Pettit Oil to clean up the remaining diesel and monitor for natural resource impacts.
Environmental contractors hired by Pettit Oil began removing soil from the shoulder and ditch line where the accident occurred (milepost 167).
On the west side of U.S. 101, contractors are using a truck that can vacuum fuel, sausage boom and sorbent pads to collect the diesel that flowed from the accident scene, drained under the highway and made its way into a wetland through a stream.
Samples are being collected from three locations in Chalaat Creek to monitor water quality and check for levels of diesel.
The Hoh Tribe uses water from Chalaat Creek for its nearby hatchery. Precautions are being taken to establish an alternative source of water for the hatchery.
February 24, 2011
Pettit Oil Truck Spill Update
Pettit Oil Company's overturned tanker-truck spill has impacted Hoh Tribal land and at least one other private landowner next to Hwy 101 at Mile Post 167. The spilled diesel went down the gradient to a culvert and entered a nearby wetland area. The wetland is connected to Chalaat Creek, which is used by the Hoh Tribe for their fish hatchery.
Approximately 4,300 gallons of diesel are unaccounted for and presumed spilled.
Pettit Oil has taken full responsibility for the spill and has hired Cowlitz Clean Sweep for cleanup operations and Aspect Consulting for Geo tech advice.
The US Environmental Protection Agency has joined Washington State departments of Ecology, Fish and Wildlife, Transportation, and State Patrol at the spill site.
Cleanup work is continuing in spite of the adverse weather conditions the crews are experiencing.
Environmental cleanup focus at Forks U.S. 101 accident scene
Response units from the Washington Department of Ecology, Department of Fish and Wildlife, U.S. Environmental Protection Agency, Hoh Tribe, and environmental cleanup crews remain on the scene of Wednesday's fuel-tanker accident near Forks.
Today's efforts are focused on identifying the extent of environmental impacts and cleaning up as much as possible. This includes soil excavation around the accident scene.
The southbound lane of Highway 101 near mile post 167 is being used to move traffic in alternating directions through the scene. Traffic impacts are likely for several more days as soil excavation is expected to take three or more days to complete.
Ecology responders say the diesel made it into a wetland by traveling from the accident scene in a drainage ditch, through a culvert under the highway and into an Chalaat Creek.
Crews from the Washington State Patrol, Department of Transportation, Ecology, and Fish and Wildlife responded to the accident yesterday and were assisted by local and tribal responders.
February 23, 2011
Fuel tanker truck crashes, spills fuel into creek near Forks
Responders from multiple agencies are on the scene of an overturned tanker-truck on Highway 101 near Forks. The 9:45 a.m. accident caused an unknown amount of fuel to a get into a seasonal tributary of Fletcher Creek, which flows into the Hoh River.
Reports from the scene indicate the amount of fuel spilled could be upwards of 6,000 gallons.
The spill appears to be contained and no additional diesel is leaking from the tanks.
Response agencies include the Washington State Patrol, Washington Dept. of Ecology and Washington Dept. of Transportation. The Hoh and Quileute tribes are on scene with their Ecology-provided spill response trailers. The trucking company hired Cowlitz Clean Sweep to protect the creek from further damage and help clean up the spilled fuel.
The collision has closed one lane of Highway 101 near the Lower Hoh Road (MP 167), and alternating, single-lane traffic control is in use.
Pettit Oil Truck Spill Update
The damaged tank trailer has been removed from the ditch and is no longer leaking. An estimated 3,500 gallons of diesel leaked with an estimated 2,100 gallons remaining in the tank.
Response agencies and cleanup contractors are continuing efforts to recover spilled fuel, prevent the further spread of diesel downstream and assess environmental impacts.