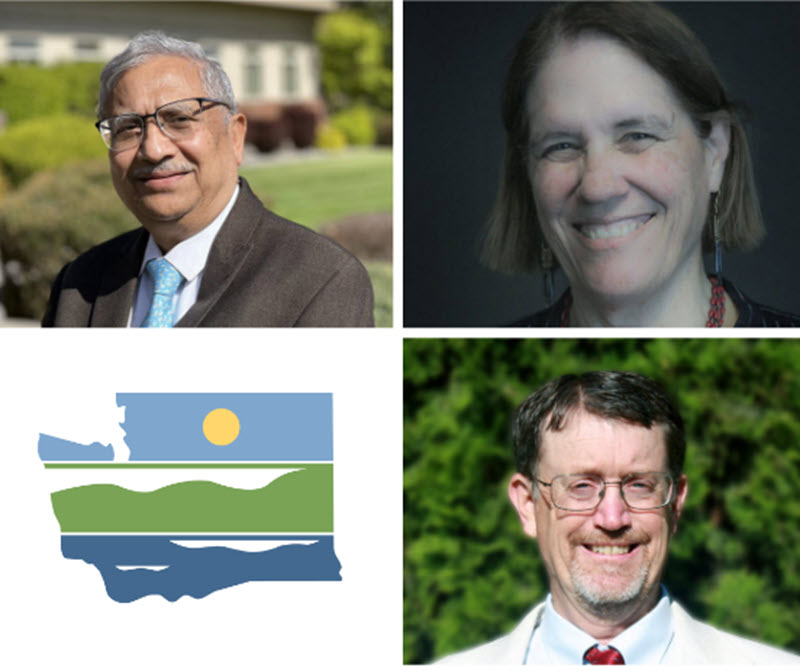 This spring and summer, we're celebrating three of our long-time staff members who are retiring or moving on from Ecology's Nuclear Waste Program.
Nina Menard, John Price, and Dib Goswami collectively have more than 70 years of experience overseeing cleanup of one of the most complex nuclear cleanups in the world!
We wish them all the very best in their next adventures and want to thank them for their decades of outstanding service, working to ensure the Hanford cleanup that protects human health and the environment for generations to come.
Our communications team interviewed all three about their time at the Nuclear Waste Program and reflections on the work they've accomplished. Below is a video with highlights of those interviews, and a brief section describing each.
Nina Menard

Nina served Ecology for almost 17 years and retired at the end of April 2023.
Nina has a bachelor's degree in zoology and a master's in biological sciences.
Prior to coming to Ecology, she worked at the Hanford Site with various contractors beginning in 1993. She started her career with the Nuclear Waste Program in 2006 as a permit writer, later becoming the Environmental Restoration Project manager, and finishing her career as the Cleanup Section manager.
Some of Nina's major career accomplishments include:
Success on cleanup sites in the 100 and 200 Areas
Development of permits in preparation for the Hanford Sitewide Permit renewal, Rev 9
Securing the Record of Decision for the 100 D/H Area
Oversight and permitting work involved with removing waste from and closing single-shell tanks
John Price
John has worked at Ecology for 23 years and is retiring from the Nuclear Waste Program at the end of May, but will still be doing work for other Ecology programs!
John earned a bachelor's degree in hydrology and holds Washington licenses in geology and hydrogeology.
He started his career with the Nuclear Waste Program in 2000. As the Tri-Party Agreement Section manager he administered the Hanford Site Federal Facility Agreement and Consent Order, and acted as the program's tribal liaison to three tribal nations. He supervised a 10-person team including five hazardous waste compliance inspectors and two Natural Resource Damage Assessment Specialists.
Some of John's major career accomplishments include:
More than 40 years of experience cleaning up radioactively contaminated sites in 17 states
Being the Interstate Technology and Regulatory Council (ITRC) team leader of the year in 2016 while developing ITRC guidance for remediation management of complex sites
Working on cleanup of radioactive contamination in the Columbia River corridor
Conducting a study of the Columbia River, species, and animals specifically regarding radiation
Dib Goswami
Dib has been with Ecology for 31 years, making him the most senior employee of the Nuclear Waste Program. He plans to retire this summer.
Dib earned a bachelor's degree in geology, a master's degree in chemistry and mathematics with applied geology, as well as a PHD in geology, environmental science, and engineering.
He chartered the groundwater team of which he has been the team leader since 1993.
Some of Dib's major career accomplishments include:
The development of a sitewide remediation strategy for the Hanford Site in 1994 which continued throughout his career
The continued contributions to several publications and taking an active part as the leader of many innovative technology deployment projects and the associated guidance documents through the ITRC and at Ecology
Spearheading the regulatory pump and treatment activities at the Hanford Site
Being one of the nation's leading technical experts in hydrogeology in the American Nuclear Society, developing the national standards for the monitoring of soil and groundwater at commercial nuclear facilities throughout the country
Technical team leader of ITRC for teams such as phytoremediation, metals in soil, constructed wetlands, and others