Pierce County annual BEACH report
We monitored six beaches in Pierce County in 2022:
Dash Point Metro Park
Jack Hyde Park
Purdy Sandspit County Park
Sunnyside Beach Park
Titlow Park
Ruston Way Waterfront Park
---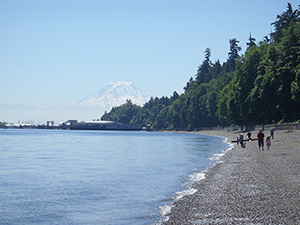 Keeping beaches safe
The Beach Environmental Assessment, Communication & Health, or BEACH, Program ensures that marine water is safe to swim and play in and informs the public if water doesn't meet swimming standards. Sampling takes place from Memorial Day to Labor Day. During this time, you can check out current water quality conditions on the swimming map.
The Tacoma-Pierce County Health Department sampled six beaches weekly in Pierce County during the 2022 season.
See details on each beach below.
Data summary: Bacteria results compared to standards
The chart below summarizes the bacteria levels at Pierce County beaches in relation to the EPA swimming standard or saltwater swimming criteria. Beaches are considered unsafe for swimming when the geometric mean of enterococcus/100 mL of water is greater than or equal to 30 and the statistical threshold value of enterococcus/100 mL is greater than or equal to 110. We issue a public swimming advisory when enterococcus levels exceed 104 per 100 mL of water.
Table: Calculated geometric mean and statistical threshold value at Pierce County beaches (in enterococcus per 100 mL) for 2022.
| Beach | GM | STV |
| --- | --- | --- |
| Dash Point Metro Park | 9 | 10 |
| Jack Hyde Park | 33 | 100 |
| Purdy Sandspit County Park | 10 | 19 |
| Sunnyside Beach Park | 12 | 22 |
| Titlow Park | 14 | 38 |
| Waterfront Dock / Ruston Way | 11 | 16 |
Contact information
Contact BEACH: Reach BEACH staff, sign up for the listserv, or follow us on social-media platforms.