Asiana jet fuel incident
Asiana Airlines Flight 271 had to jettison commercial jet fuel over Puget Sound after the aircraft experienced engine failure shortly after takeoff from Seattle-Tacoma International Airport.
Summary information
Date of incident: May 6, 2009
Location:
Off Vashon and Bainbridge Island, Kitsap and King Counties, Washington
Type of incident: Jet fuel spill
Cause of incident: Fuel jettisoned to lighten load and ensure safe landing
Responsible party: Asiana Airlines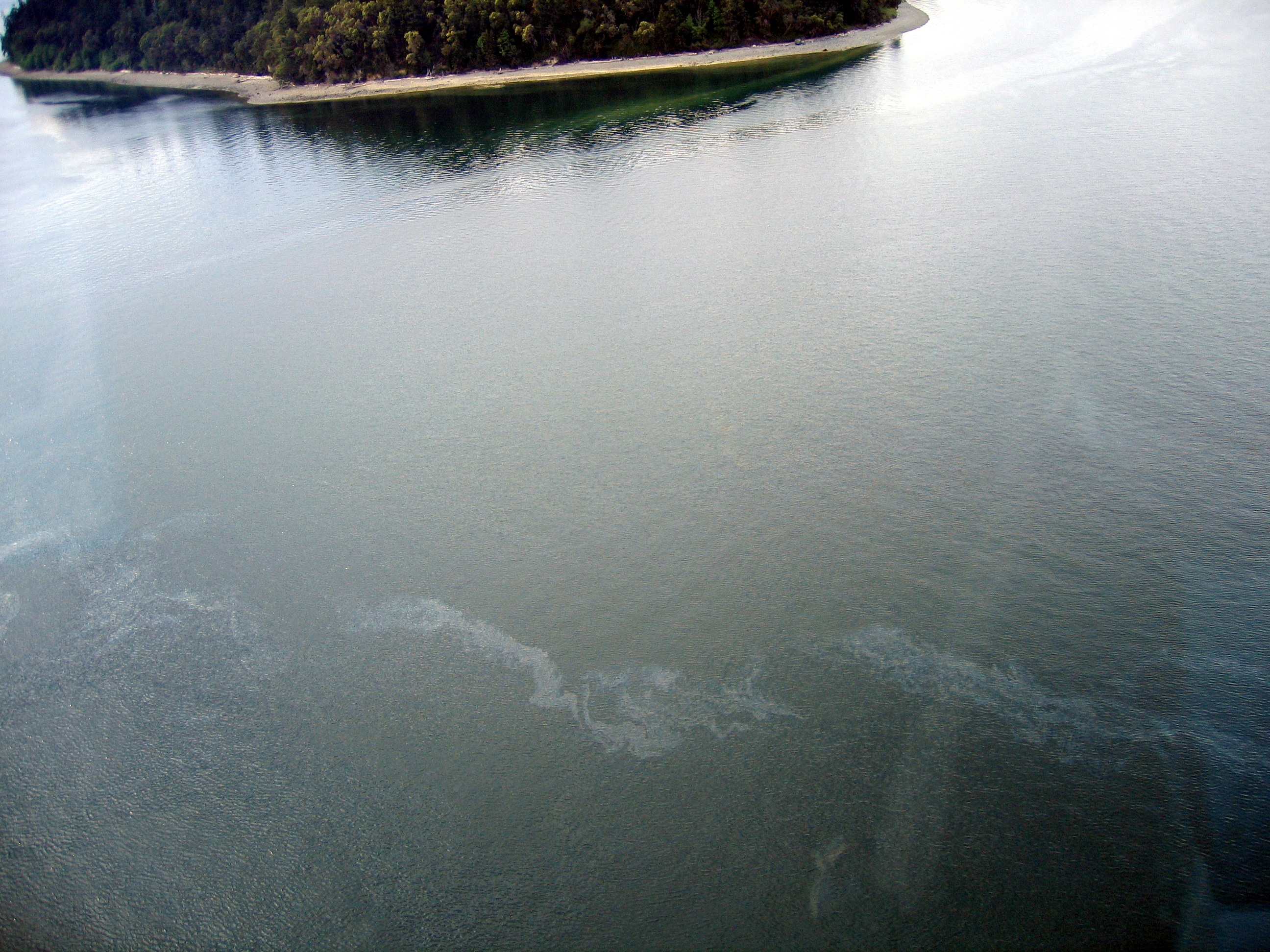 Jet fuel sheen in Puget Sound from Asiana Airlines Flight 271.
Status updates
May 5, 2009
The Washington Department of Ecology (Ecology) won't take enforcement action against Asiana Airlines after one of its jets had to jettison thousands of gallons of fuel over Puget Sound during an emergency shortly after takeoff from Seattle-Tacoma International Airport on April 29, 2009.
Because the fuel release occurred as part of an emergency operation to safely land the plane and save lives, Ecology won't levy penalties or fines.
May 4, 2009
Department of Ecology responds to April 29 jet fuel incident
On Wednesday April 29, 2009, the Washington Department of Ecology (Ecology) mounted an aggressive response to determine potential environmental impacts to state waters after Asiana Airlines Flight 271 had to jettison an initial estimate of about 5,000 gallons of commercial jet fuel over Puget Sound.
The Boeing 777 was forced to take the emergency maneuver after the aircraft experienced engine failure shortly after takeoff from Seattle-Tacoma International Airport at about 2:30 p.m. The jet successfully landed back at the airport without incident.
Over flights, maritime reports and field assessments
Ecology spill responders made field observations at various locations in King and Kitsap counties. Agency spill responders also conducted an aerial over flight of Puget Sound to assess environmental impacts. Ecology also contacted and received reports from its partners in the maritime community to get immediate on-water observations.
Rough estimate where fuel was jettisoned
Jettisoning excess fuel during an emergency to lighten an aircraft's load to ensure a safe landing is a common procedure. When Flight 271 reported an engine failure, it was about five miles from the airport and about 3,000 feet over Federal Way but was continuing to climb. Voice communication recordings between the aircraft and ground control reveal the pilot requested permission to dump fuel. The pilot was instructed to turn right, head north over Puget Sound, and release fuel once the jet was over water. From the location where the emergency was declared, the aircraft would have been over Puget Sound waters within a minute. The aircraft traveled north, the circled off Shilshole Bay until it had released enough fuel to make its emergency landing. At the time of the incident, winds were blowing toward the west at 2.5 miles per hour, with gusts of 5 to 7 miles per hour. The wind blew the fuel toward the north end of Vashon Island and along the eastern shore of Bainbridge Island. The aircraft discharged an estimated 34,200 pounds of fuel in total, or approximately 5,000 gallons.
Most fuel likely evaporated but some did reach land, water
While Ecology expects much of the jettisoned fuel evaporated before reaching the ground, there were numerous reports that some fuel reached land and also impacted area surface waters. Kitsap County received emergency calls from Bainbridge Island residents reporting some people were sprayed with drifting fuel droplets. Washington State Department of Transportation Ferry System officials reported strong vapors and fuel on the water about a mile off Bainbridge Island. Ecology responders coordinated with local fire department officials on Bainbridge Island but could not confirm fuel impacts. Local fire officials also reported no first-hand observations of residual fuel.
Fuel observed in Puget Sound
During a helicopter flight over the central Puget Sound, an Ecology responder observed a thin "stream" of fuel sheen along the shore of Vashon Island, Bainbridge Island, and as far north as Lincoln Head, almost to Kingston. Only a couple streamers of fuel sheen were observed from Edmonds to Seattle on the east side of Puget Sound. The spilled fuel was too thin to recover from the water. Ecology estimates the spill likely dissipated into the water column and evaporated within a couple hours. The department did not receive any reports of oiled birds or wildlife.
Commercial jet fuel
Commercial jet fuel is essentially kerosene and similar to what is used to light charcoal barbecue fires. While all oil is poisonous to the environment, Ecology does not expect the jettisoned fuel from the April 29 incident caused serious environmental harm. Any person or property hit directly with liquid fuel should wash it off with soap and water.