Chambers Bay BNSF train derailment
Chambers Bay BNSF Train Derailment resulting in the spill of a sodium hydroxide solution:
50 gallons from damaged tank car to beach on February 26
100 gallons from separate tank car after removed from beach on March 1
Summary information
Date of incident: February 26, 2011
Location:
University Place, Pierce County
Rail Milepost 13 (adjacent to Chambers Bay Golf Course)
Type of incident: Sodium hydroxide solution spill
Cause of incident: Under Investigation by the Federal Railroad Administration
Responsible party: BNSF Railway Company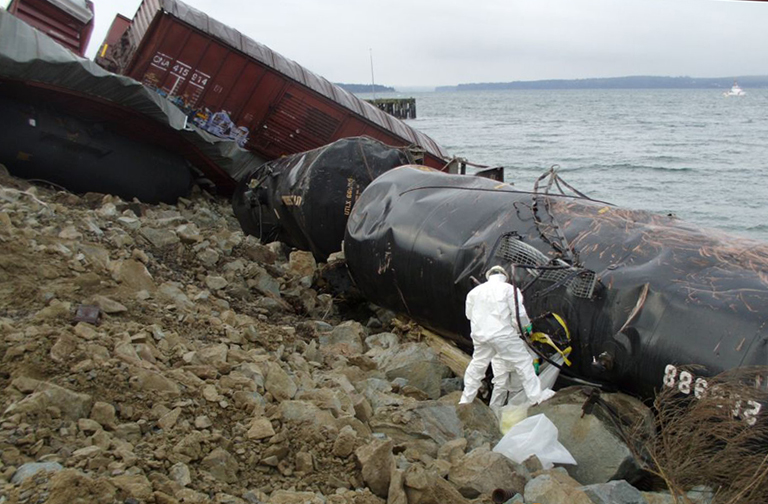 National Response Corporation Environmental Services (NRCES) workers secure the leaking tank car of sodium hydroxide. An estimated 50 gallons of chemical spilled to the beach before the leak could be plugged and secured.
Status updates
December 1, 2011
Ecology fines BNSF $3,000 for sodium hydroxide spill, requests railroad demonstrate better initial response coordination
Ecology has fined BNSF Railway $3,000 for spilling 150 gallons of liquid sodium hydroxide. Under Washington law, beaches are considered to be state waters and it is illegal to spill any amount of oil or other toxic chemicals on them.
Ecology also billed BNSF $6,370 to recover the state's costs for responding to the derailment and chemical spill.
In addition to the penalty and cost recovery order, Ecology noted a lack of coordination with local responders that resulted in safety challenges during the initial stages of the response.
Ecology asked the Fort Worth, Texas-based railroad company to submit a written report within 30 days describing how BNSF will better coordinate with the designated incident command agency and other public response agencies during future hazardous material spill incidents that involve the company.
BNSF has 30 days to appeal Ecology's $3,000 penalty with the state Pollution Control Hearings Board or file an application for relief before the full amount is due.
Incident Summary
At approximately 8:00 p.m. on February 26, 2011 a north bound 103-car freight train derailed and side-swiped a sound-bound train impacting a total of 14 rail cars including four fully-loaded tank cars of sodium hydroxide. Three of the tank cars ended up on the shore of Puget Sound and the fourth tank car was on the bank under two damaged box cars.
West Pierce Fire and Rescue, Pierce County Hazardous Incident Team and Anderson Island Fire Boat quickly responded to the wreck. The King County Sheriff's Department helicopter with infrared capabilities was also brought in to help assist with the assessment of incident. BNSF and their environmental contractor also responded quickly to the scene.
Only one of the tank cars, which each contain 15,000 gallons of chemical, was found to be leaking and an estimated 50 gallons of sodium hydroxide leaked to the beach before a response crew could plug and secure the leaking tank car. The damaged box cars were either empty or contained non-hazardous materials.
A unified command comprised of the Coast Guard, Department of Ecology and BNSF managed the response to the derailment and removal of the tank cars from the shore. One main-line track was cleared by 1:00 p.m. on Sunday afternoon and the second track was cleared by 11:00 p.m.
The first tank car to be moved was the one on the bank. It was moved to the upland side of the tracks where the sodium hydroxide was pumped off. The three tank cars on the beach were pumped off over a several day period prior to being moved to the upland side of the tracks on Tuesday, March 1. During the recovery of one of the tank cars, an additional 100 gallons of sodium hydroxide spilled to the access road adjacent to the rail tracks.
Cleanup of the impacted beach area involved removing standing liquid and neutralizing the remaining chemical in the sand. The upland spill area was cleaned up by vacuum truck and soil excavation. Samples have been collected to ensure that cleanup of both sites is complete.
The tank cars will be fully cleaned at the accident site before being cut-up and hauled off as scrap metal.
February 27, 2011
The Coast Guard, Department of Ecology, West Pierce Fire & Rescue, Pierce County Hazardous Incident Team, Pierce County Sheriffs Dept. and BNSF Railway Company are responding to the report of a train derailment south of the Tacoma Narrows Bridge in University Place, Wash., Saturday, at approximately 8:00 p.m.
Fourteen train cars derailed, four of which contain sodium hydroxide. One tank car was leaking sodium hydroxide solution and approximately 50 gallons spilled onto the beach that is impacted by high tide.
Once response personnel were on scene, they were able to plug a leaking valve and partially secured a separate leak. The remaining chemical that is leaking is being collected in a container and will be recovered for proper disposal by the BNSF's environmental contractor.
At low tide all fourteen train cars are out of the water. At high tide five train cars are in approximately one foot of water.
Public hazard was stated to be negligible at this time by LCDR Denning, Coast Guard and Ron Holcomb with Department of Ecology. There is currently no need for a safety zone around the impacted area. Pierce County has taken the precautionary effort to close off trails and the pedestrian bridge near the area. The Coast Guard Cutter BLUESHARK is on scene waterside to alert local boaters. An over flight conducted by a Coast Guard helicopter at 0840 this morning verified that there was no visible pollution in the water.
The sodium hydroxide will be pumped out of the tank cars prior to the cars being removed from the shoreline.
Gus Melonas, representative from BNSF, indicates that both train lines are expected to be open later today and the cause of the derailment remains under investigation.