Grease balls on Vashon Island
The Washington State Department of Ecology (Ecology) is responding to reports received today of small balls of a bright orange grease-like material washing ashore on Maury Island between Point Robinson and Maury Island Marine Park. The unidentified material may be a lubricant. Ecology investigators have found the material in balls ranging in size from "pencil erasers" to "apples."
Summary information
Date of incident: March 6, 2013
Location:
Vashon Island, WA
Type of incident: Unknown quantity - Lubrication product
Cause of incident: Lubricant release from J.M. Martinac shipyard in Tacoma
Responsible party: J.M. Martinac Shipbuilding Corp.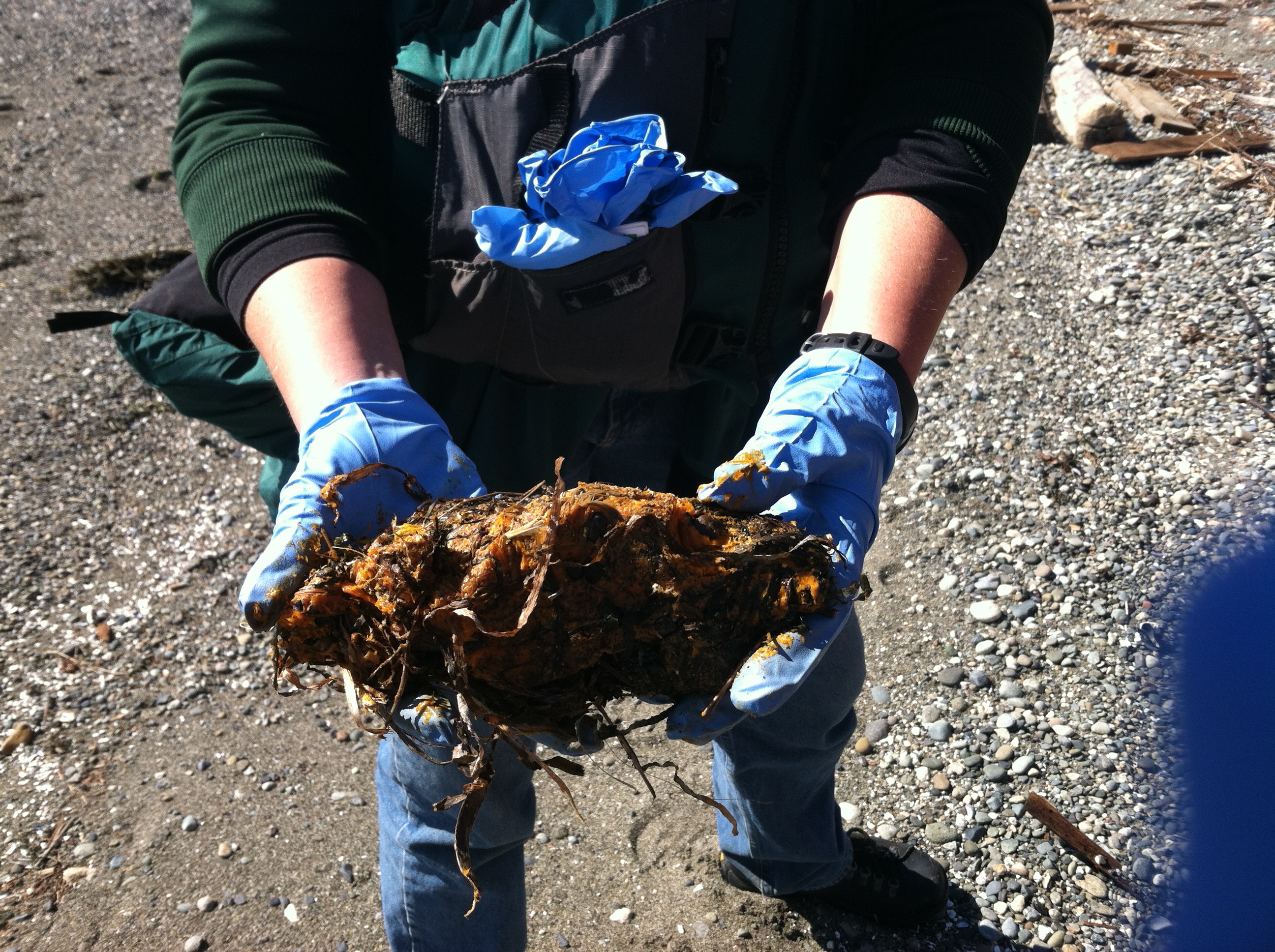 Example of a grease ball found on Vashon Island.
Status updates
July 25, 2013
Update from Southwest Regional Office: Spill Response issued a warning letter for this case. The responsible party hired a response contractor and took responsibility for the cleanup. No further action at this time.
March 8, 2013
Cleanup crews hired by a Tacoma shipbuilder removed small orange balls of lubricant from Maury Island beaches today, under the Ecology Coast Guard oversight.

J.M. Martinac Shipbuilding Corp. (Martinac) of Tacoma cooperated in the cleanup effort. The company uses the material, called Neptune Slip Coat, to lubricate rails when launching ships.

During a pre-dawn ship launching on Jan. 25, 2013, at the company's shipyard on the Thea Foss Waterway in Tacoma, some of the lubricant floated away in the darkness. Martinac provided shoreline cleanup in Tacoma's Browns Point area on Feb. 7 and 8 after residents reported the material on beaches there.

Today's cleanup covered 2.5 miles of shoreline extending southwest from Point Robinson. Two five-member crews removed balls of lubricant that ranged in size from about a quarter inch to about four inches. They also collected beach materials smeared with the lubricant.

Ecology responded Tuesday to citizen reports of the bright orange material on the Maury Island shore of Puget Sound's East Passage between Seattle and Tacoma. Agency officials connected these reports with the earlier cleanup at Browns Point.

"We appreciate Martinac's readiness to take responsibility for these cleanups and see them through," said Kimberly Medicus, Ecology's spill response coordinator on-scene.

"In our 90 years building boats in Tacoma, we have always taken our responsibilities seriously," said Martinac Vice President Jonathan Platt. "We regret the release of this material and are fully committed to cleaning it up wherever it may be found. Ship launches do require lubrication, and we seek and use materials with the least possible potential for environmental harm."

The company has been working with Ecology to review its practices to prevent and recover releases of lubricants when launching ships.

People who see more orange grease balls on beaches should contact 1-800-OILS-911.

The Washington Department of Fish and Wildlife and Washington State Department of Natural Resources assisted in the response.
March 7, 2013
Ecology asks that members of the public not touch or disturb the orange balls. This could smear the material and complicate cleanup. A cleanup plan is under development. The balls have been observed between Point Robinson and the Maury Island Marine Park. If you discover balls elsewhere, please inform Ecology at 425-649-7000.
Ecology and the U.S. Coast Guard will set up a field post at Point Robinson Park tomorrow morning to coordinate a beach assessment and planning for a cleanup of the orange globs. In the late morning a professional environmental assessment team hired by the Coast Guard will map affected areas and gather samples to aid in planning the cleanup operation.

An Ecology lab assessment today confirmed that the globs contain petroleum products, making the material eligible for cleanup using federal or state oil spill contingency funds. The Coast Guard has approved the use of a federal account. The source of the globs, found washed ashore on Tuesday of this week, remains unknown. If identified, this party would be billed to reimburse the government's costs to respond to and clean up the material.

People who visit the affected beaches are reminded to not touch or handle the globs, and to keep pets away from the material. Ecology and Coast Guard experts seek the public's help in preventing the globs from becoming mashed, which would complicate and prolong the cleanup.

Ecology's preliminary assessment found the orange globs primarily along the high tide line extending at least 2.5 miles from Point Robinson toward Maury Island Marine Park. Globs discovered elsewhere should be reported to Ecology at 425-649-7000.
March 6, 2013
The Washington State Department of Ecology (Ecology) is responding to reports received today of small balls of a bright orange grease-like material washing ashore on Maury Island between Point Robinson and Maury Island Marine Park.

The unidentified material may be a lubricant. No source has been identified.

Ecology investigators have found the material in balls ranging in size from "pencil erasers" to "apples."

Ecology continues to assess the size of the area affected and is developing plans to recover the material. Samples have been collected for laboratory analysis and identification.