Organic waste
Reducing and recycling organic wastes are key goals of Washington's State Solid and Hazardous Waste Plan. Organic materials are valuable resources — from food and yard waste, to biosolids, to agriculture waste. We are working to recycle organic materials through composting, using them to improve soils and crops as biosolids, and turning dairy manure into energy through anaerobic digestion.
As reported in the 2020-2021 Waste Characterization Study, "organic materials" is the largest contributor to the waste disposal stream. Included in this group is food waste, yard and garden trimmings, and manure. Food waste is the largest component (61%) of the organic materials category. All of this material can be converted into products, including compost and renewable natural gas.
The "woody debris" category also has materials that can be diverted to other beneficial uses, such as compost and biochar.
2020-2021 Waste characterization study data
| | |
| --- | --- |
| Waste type | Tons |
| Total waste disposed | 5,275,514 (100%) |
| Food waste, yard and garden waste, manure, animal carcasses | 1,201,924 (23%) |
| Food waste (edible & inedible) | 732,781 (14%) |
| Clean woody debris | 135,336 (.02%) |
| Total food waste, yard trims, clean wood | 1,337,260 (25%) |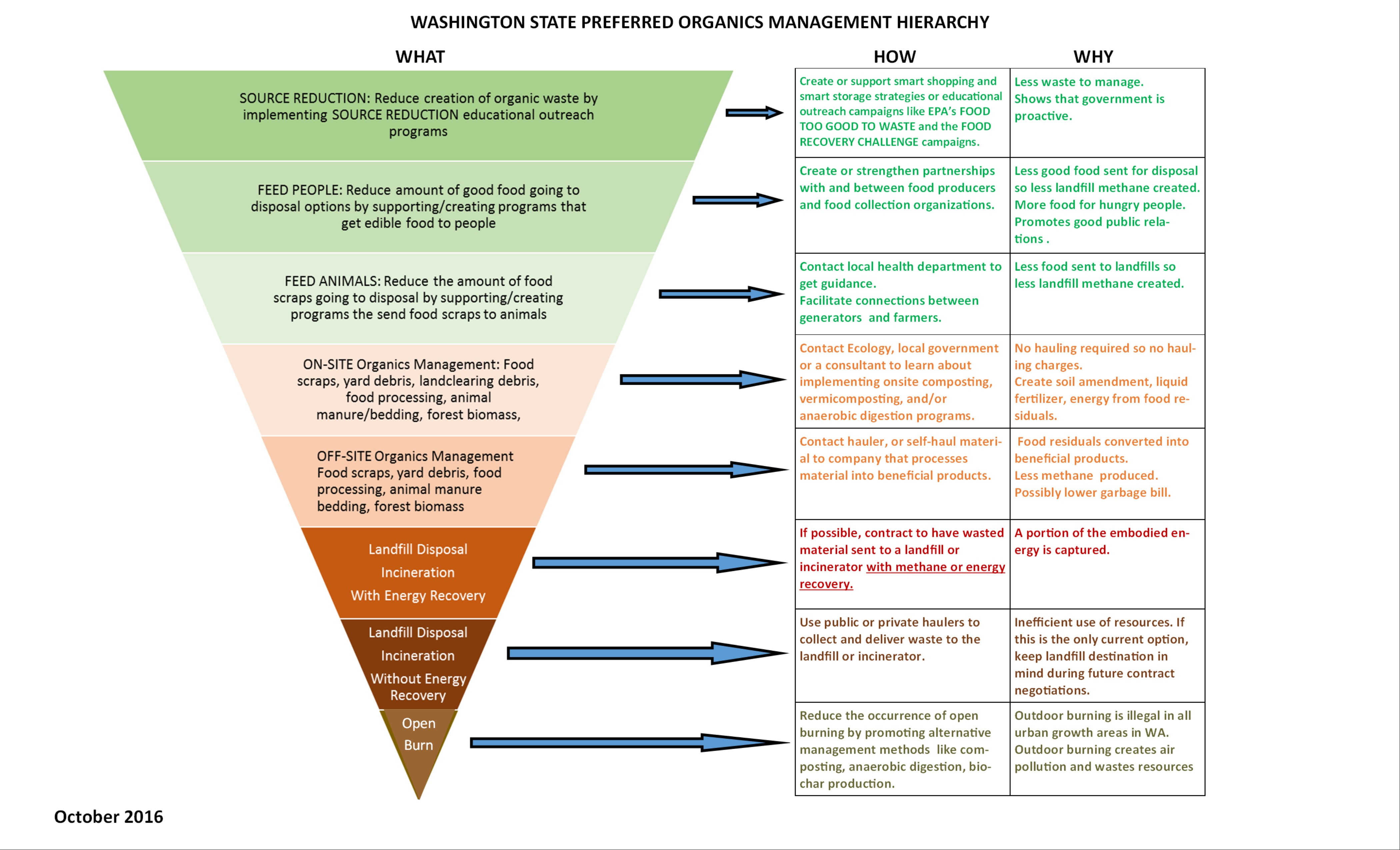 Organics management hierarchy
Ecology created an organics management hierarchy to help Washingtonians manage food scraps and yard trimmings in the most beneficial way possible.
Organics categories
We provide technical and regulatory assistance in these areas:
Organics management regulations
Agriculture
Composting often goes hand-in-hand with agricultural practices. Much of this compost activity is exempt from the Solid Waste Handling Permit process. See the agricultural exemptions within the composting regulations, WAC 173-350-220(1)(b)(v)-(vii), (ix). The primary agencies that provide assistance and oversight to agricultural operations are Natural Resources Conservation Service and Washington State Department of Agriculture.
Anaerobic digesters
Some dairy manure anaerobic digesters do not need a solid waste handling permit. They can operate as conditionally exempt from permitting requirements. However, if anaerobic digester operations do not qualify for the exemption, a solid waste handling permit is required.
Composting facilities
Composting facility standards are listed in WAC 173-350-220. Standards include: Compost facilities must meet the performance standards in WAC 173-350-040 even if they are permit exempt. Find more information at Solid waste permits.
Exemption categories (identifying operations that don't need solid waste handling permits)
Design and operating standards for permitted facilities
Compost quality testing requirements