Use Food Well Washington Plan
The Use Food Well Washington Plan is Washington's roadmap to reduce food waste by 50% by 2030. The information below includes details on the planning process, where to read the plan, food waste and wasted food data, and how to get involved.

The Use Food Well Washington Plan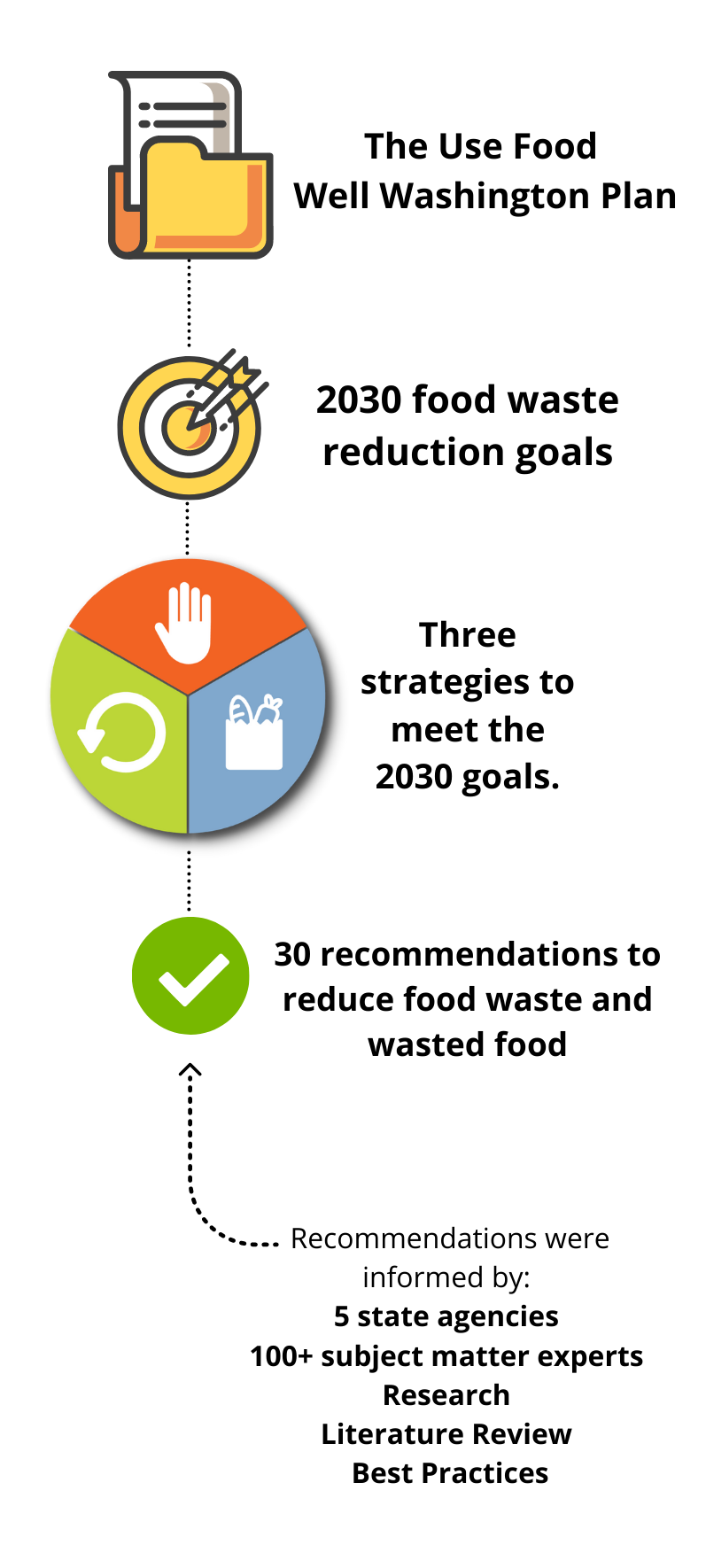 To address food waste and wasted food in Washington, the 2019 Washington Legislature unanimously passed the Food Waste Reduction Act, now codified as RCW 70A.205.715.
The law established statewide food waste reduction goals, relative to 2015 levels, including a focus on reducing the amount of wasted edible food. We are required to establish baseline data to annually track progress toward the statewide food waste reduction goals, along with drafting a food waste reduction plan to meet the 2030 goals.
We developed the 2015 baseline data, and further defined the edible food waste reduction goal, resulting in the following statewide food waste reduction goals:
Goal 1: Reduce food waste generated by 50 percent by 2030
Goal 2: Reduce at least half of edible food waste by 2030
We were also tasked to develop and implement a food waste reduction plan that focuses on three key strategies:
Prevention: Prevent and reduce the amount of food that's wasted
Rescue: Rescue edible food that would otherwise be wasted and ensure the food reaches those who need it
Recovery: Support productive uses of inedible food materials, including using it for animal feed, energy production through anaerobic digestion, and for off-site or on-site management systems including composting, vermicomposting, or other biological systems
The Use Food Well Washington Plan (UFWW Plan) prioritizes public-private partnerships over regulations, and was developed in collaboration with the state Office of Superintendent of Public Instruction (OSPI) and Washington departments of Agriculture, Commerce, and Health, and more than 100 subject matter experts.
The Use Food Well Washington Plan recommendations are a mix of federal and state policy changes, increased program funding, and investments in public education, food management systems, and recovery infrastructure. A total of 30 recommendations to reduce food waste were identified through this collaborative engagement process.
Through comprehensive implementation, the recommendations in this plan could prevent, rescue, and recover an estimated 1.3 million tons of food waste each year from landfill disposal. A significant portion of this reduction (at least 295,000 tons per year) is estimated to be edible food diverted to hunger relief or new markets. We found additional environmental, economic, and social benefits can be realized through comprehensive implementation, including a net financial benefit of over $1 billion annually.
To learn more about this work, see our introductory webinar, subscribe to the Use Food Well Washington email list, read the legislative report, or contact Jade Monroe at jade.monroe@ecy.wa.gov or 360-628-4031.