Freshwater fish contaminant monitoring
We analyze tissues from fish caught at lakes and rivers around the state, testing the fish for levels of various toxic chemicals. We share fish-tissue data with our environmental and public-health partners.
---
Monitoring freshwater fish for toxic chemicals
We test freshwater fish for heavy metals, pesticides, PCBs, mercury, and dioxins, and other priority toxic chemicals that may harm humans or animals. Since 2001, we have sampled fish at more than 170 sites, choosing to monitor where data are lacking.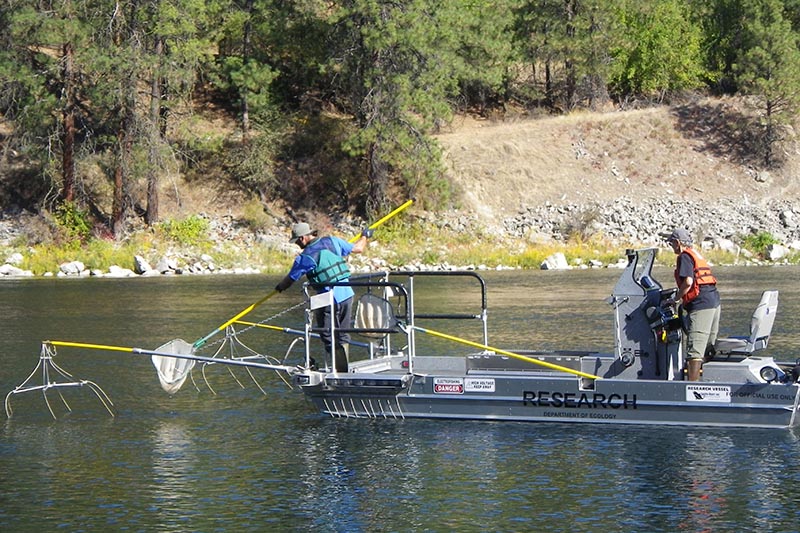 Long-term monitoring for some lakes and rivers
We regularly repeat fish sampling from lakes Chelan and Washington every 8 – 12 years, as well as from the Columbia, Okanogan, Spokane, Wenatchee, and Yakima rivers. These data tell us about the extent and magnitude of problems and how concentrations may be changing over time.
We plan to sample six sites on the Spokane River, from the state line to Little Falls Dam, in fall 2023. We will compare the levels of common contaminants in largescale suckers, northern pikeminnow, and mountain whitefish to historical levels and will collect baseline data on levels of PFAS, per- and polyfluoroalkyl substances.
Reports
Annual reports are in the Environmental Information Management database under the "study publications" dropdown menu in the "study details" pages and on the Freshwater Fish Contaminant Monitoring publication index page.
Data
Data are available through the Environmental Information Management database under the study IDs WSTMP (for years 2001-2012) or FFCMP (for more recent years), followed by two characters for the year, for example: WSTMP05 is the study ID for 2005 data, and FFCMP13 is the study ID for 2013 data.
Related links