King Tides are overtaking a shoreline near you
Help scientists track and document King Tides this year! The King Tides Photo Initiative is aimed at getting people to take photographs during unusually high tides and share them.
Tracking King Tides shows us how future sea level — which is expected to rise significantly during the coming decades — will impact coastal communities. The projected sea level rise caused by climate change will make the extreme high tides we're chasing now become increasingly common.
"King Tides" are defined as the highest tides of the year. In Washington, these phenomenal tides usually occur in December and January. While we work hard to predict the true King Tides; sometimes those on the schedule turn out not to be the highest tides of the winter, even if they are very high tides. Let's find out why…
Many things make King Tides hard to catch
Some of you may have tried to help us document King Tides this year and had the experience of being a bit underwhelmed by the high tide you observed. It can be disappointing to go out at the crack of dawn on a day with a projected King Tide, only to see the same ol' high tide you're used to seeing. Then, it can be extra upsetting to see news of a truly spectacular high tide a week later when you weren't expecting one at all.

What's going on? King Tides can be tricky to predict and catch. The highest tides of the year may not necessarily occur when we expect them. This is particularly true this winter as the strong El Niño is raising water levels, and making King Tides difficult to pinpoint.

Although we have long been able to make very precise predictions of future tides, these are based on the position of the earth relative to the sun and moon, and do not reflect contributions from the ocean or weather. Factors such as wind storms, atmospheric pressure, and ocean conditions are very difficult to predict far in advance, and can significantly influence water levels. Who in Washington hasn't experienced the weather forecast changing drastically from day to day — or even minute to minute?! These same factors can throw a wrench into King Tide predictions by producing water levels that are a foot lower or higher than expected.
Does a foot really matter in sea level?
Tides on Puget Sound often arrive a foot or more below, or above, their predicted height. This can reduce what is projected as an extremely high tide to a very normal-looking high tide. However, it can also turn a very normal high tide into a super high tide — a King Tide.

It's important to note that an extra foot of water level makes a huge difference in what is seen on the shoreline. This is the same reason why documenting King Tides is so important. It's important to know how a couple feet of water will impact buildings, roads, beaches, sidewalks and other infrastructure in coastal towns to prepare for, and adapt to, rising sea levels.

A 13-foot tide in central Puget Sound would be considered a King Tide. Some years we see several of these, but in others there are none at all. If a predicted 13-foot tide arrives during a period of high atmospheric pressure, it could be a foot lower than forecasted. On the other hand, a tide predicted at the very common and unimpressive height of 12.5 feet could easily be raised a foot or more under the right conditions. At 13.5 feet, a tide would become one of the highest tides of the year! This means that while it's possible that the highest tides this winter may occur on days predicted to be King Tides, they may be just as likely to occur on days that were not expected.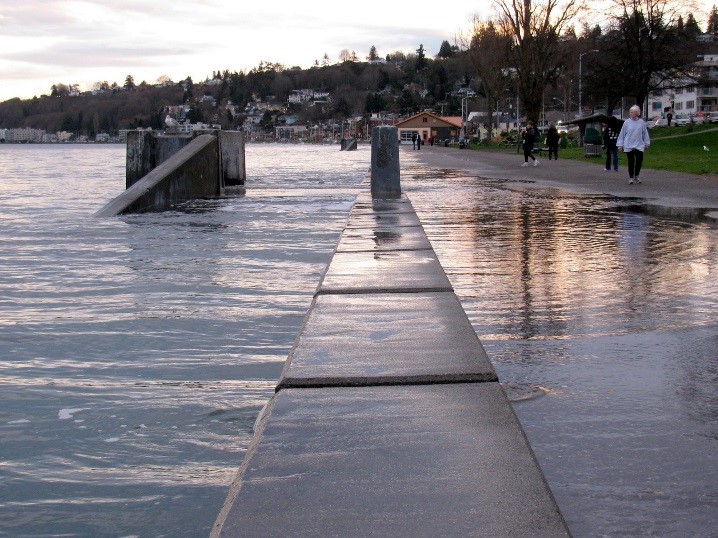 What does this El Niño year bring to King Tides?
El Niño years make it especially tricky to predict when the highest tides will hit. One of the effects of El Niño is to bring warm water and elevated sea levels to the west coast, which may significantly increase the number of very high tides. In 2010, the combination of very low pressure and El Niño gave an extraordinary series of extremely high tides during the third week of January. During the previous El Niños years of 1982–83, 1997–98 and 2009–10, there were dozens more tides that reached 13 feet high in Seattle than predicted, simply because the base water levels were higher.

If you like King Tides, this winter bears watching. There are no high tides predicted over 13 feet in Seattle this 2015–16 King Tides season, but thanks to the strong El Niño, there may be higher than expected water levels. We don't know if it's tied to El Niño yet or not, but during the first couple weeks of December, water levels were consistently more than a foot (or two!) higher than predicted and we've already seen several tides over 13 feet. Keep watching those coastlines, the tides may surprise us yet.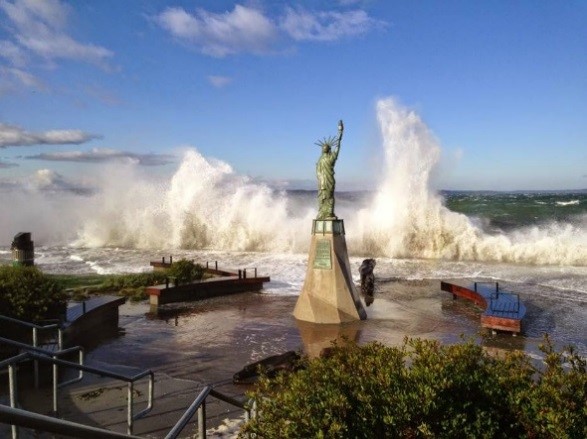 Get your best chance to catch those King Tides
Mark King Tides in your calendar, but also bookmark your local tide gauge, which will show both the predicted and the actual observed water levels. Another tip is to pay attention to National Weather Service warnings about "minor tidal overflows" which alert us to unusually high tides and the potential for localized flooding. By doing a little homework the night before, you will be better informed to decide whether it's worth getting up early in the morning to watch Puget Sound overflow.

Besides water levels themselves, wave action will strongly influence the impact of high tides on shorelines. A powerful windstorm can turn a high tide into a much more dramatic event. Besides keeping an eye on the tide gauge, look for opportunities to observe shorelines when strong wind and waves pair up with the high tide. But, as always, be safe! Winter is not the time to take an unexpected dunk in the Sound.
Get to know your favorite shoreline when the water is high. Pay attention to weather and tidal conditions.
Take photos and share your observations of King Tides and unusually high water on social media.
Make sure to tag your photos with #kingtideswa or upload them to our citizen science page to share them with the King Tides Photo Initiative.
Make sure to document local examples of "nuisance flooding" such as times when water flows over the road, washes over a bulkhead, floods the boardwalk or causes a storm drain to turn into a geyser.
Catching these events is extra important because these are the problems we want to plan to prevent with rising seas in the future.
Get friends and family involved in King Tides
The annual King Tides make for a fun and novel opportunity to get your friends and family involved with science. It also provides a great chance to talk to kids about climate change and sea level rise.

The next round of King Tides are predicted at the coming holidays this year, so grab the family and head out to capture history — or the future, depending on how you look at it!
For more information, visit our webpage.