Emergency response towing vessel
The emergency response towing vessel (ERTV) at Neah Bay helps prevent oil spills from ship and barge groundings and other significant maritime incidents. Contracted access to the ERTV, procedures for calling out the resource, and a commitment to drill are all requirements detailed in the vessel contingency plan. We also require vessel operators to submit a written post-incident report if the ERTV was deployed to assist their vessel.
To help protect shorelines and waterways, the maritime industry has permanently stationed an emergency response towing vessel (ERTV) at Neah Bay. The towing vessel is an important safety net to prevent disabled ships and barges from grounding off the Pacific Coast or in the western Strait of Juan de Fuca. An oil spill in this area would harm the environment, economy, and cultural resources.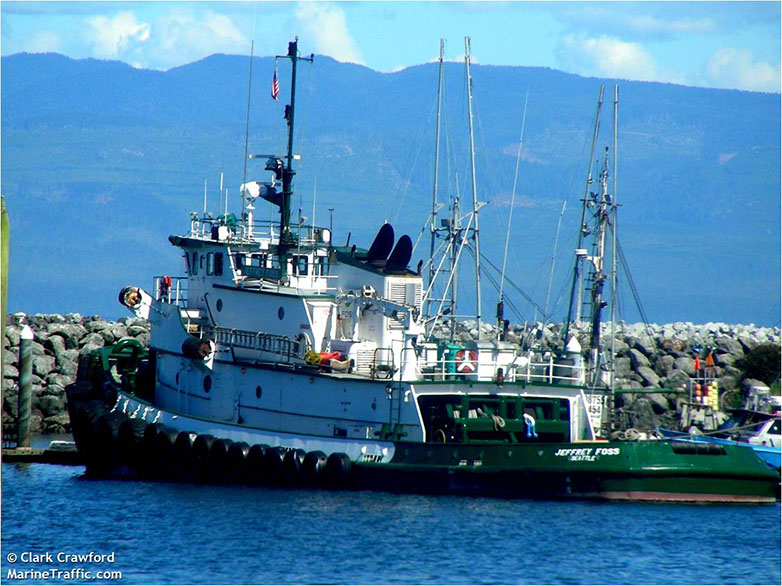 Since 1999, the tug has deployed many times to stand by or assist ships and barges that were either completely disabled or had reduced maneuvering ability. Vessels requiring assistance included cargo ships, fishing and fish processing vessels, laden tank ships, and tugs with tank barges in tow. Assisting has sometimes meant towing the disabled ship.
Funding for the Neah Bay tug is managed by the Marine Exchange of Puget Sound. To make sure industry-funded standby towing capability, the maritime shipping industry has contracted a vessel under charter to the Marine Exchange to be stationed at Neah Bay.
The U.S. Coast Guard and Ecology may also independently contract for the services of the ERTV to respond to an emerging maritime casualty or as a precautionary measure.
Resources for industry
Information about how to dispatch the ERTV is included in vessel oil spill contingency plan field documents.

Capabilities of the tug:
Underway within 20 minutes of call-out.
Able to deploy 24 hours per day to provide emergency assistance.
Able to hold or tow a drifting vessel, even in severe weather (wind and waves).
Equipped with a ship anchor recovery chain and line-throwing gun.
Damage control resources, vessel dewatering tools, and air monitoring instruments staged onboard.
The industry-funded ERTV is managed by the Marine Exchange of Puget Sound. Visit their website for:
Enrollment information
Schedule of vessel information
Rate sheets for tank and non-tank vessels
FAQ
The Marine Exchange of Puget Sound provides all administrative services, including invoicing, collection of vessel assessments, and payment of ERTV expenses. The Marine Exchange is a member-based, nonprofit corporation equipped for and experienced in providing information about vessels transiting Washington waters, providing various communications services, and sharing information with customers as needed.
Any time the ERTV is deployed on your behalf, we require you to submit a written report to us that includes a detailed description of the incident and what actions were taken. When possible, you should also include photographs to document the incident.

To submit a report, email Sean Orr or by mail at Department of Ecology, Spills Program, P.O. Box 47600, Olympia, WA 98504-7600.
ERTV laws and rules
Chapter 173-182-242 WAC - Additional requirements for vessel plan holders with access to the emergency response system at Neah Bay.
RCW 88.46.135 - Emergency response system — Vessel planning standards.
Related links
Contact information
To report a tug call-out:
Sean Orr
Plan Development Lead
sean.orr@ecy.wa.gov
360-280-6073
For information about past call-outs:
Mike Lynch
Investigations Coordinator
mike.lynch@ecy.wa.gov
360-951-2787