Columbia River Littoral Cell Beach Monitoring
The Columbia River is the primary source of sediments for the beaches between Tillamook Head, Ore., and Point Grenville, Wash., also called the Columbia River Littoral Cell (CRLC). During the past century, the shoreline along the southwest Washington coast has accreted substantially, providing an expanding land mass favorable to development. Recently, however, that growth trend has slowed throughout the region and has reversed in certain areas, yielding dramatic erosion rates. State and federal agencies have invested millions on erosion protection measures along the coast. However, the causes and timescales of erosion remained speculative until a 1997 Southwest Washington Coastal Erosion Study that prompted the states to begin monitoring CRLC beaches.
The Columbia River Littoral Cell (CRLC) monitoring program was a major component of the Southwest Washington Coastal Erosion Study that started in 1997. In conjunction with Oregon State University (OSU), the Oregon Department of Geology and Mineral Industries (DOGAMI), and U.S. Geological Survey (USGS), we have been surveying the CRLC beaches for more than 20 years.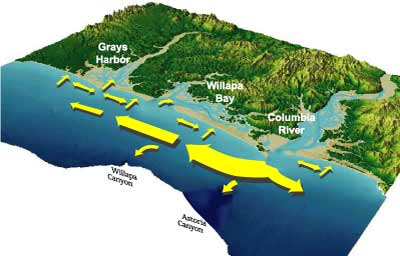 This ongoing monitoring program, funded mainly by the Northwest Association of Networked Ocean Observing Systems (NANOOS) and the U.S. Army Corps of Engineers (USACE), involves quarterly beach surveys at select locations along the northwest Oregon and southwest Washington coast. It includes annual bathymetry surveys to designed to extend our view of coastal processes to the nearshore region.

The knowledge base currently being developed through this research will help local level efforts involving long-range planning and coastal management of this area to protect life, property and support the economic and environmental sustainability of our coastal communities.