NRDA in Port Angeles Harbor
Port Angeles Harbor and the ecosystem components it supports are valuable natural resources. The harbor has a long history as an important cultural area for Klallam Indians and remains important to the three present-day Klallam/S'Klallam Tribes. It has provided food and recreation for many people, and habitat for plants and wildlife, including several endangered species.
Contamination in the harbor from industrial and urban activities may harm the wide variety of wildlife that live there and the habitats that support them. We use the Natural Resource Damage Assessment (NRDA) process to compensate the public for injuries to wildlife and wildlife habitat caused by contamination.
---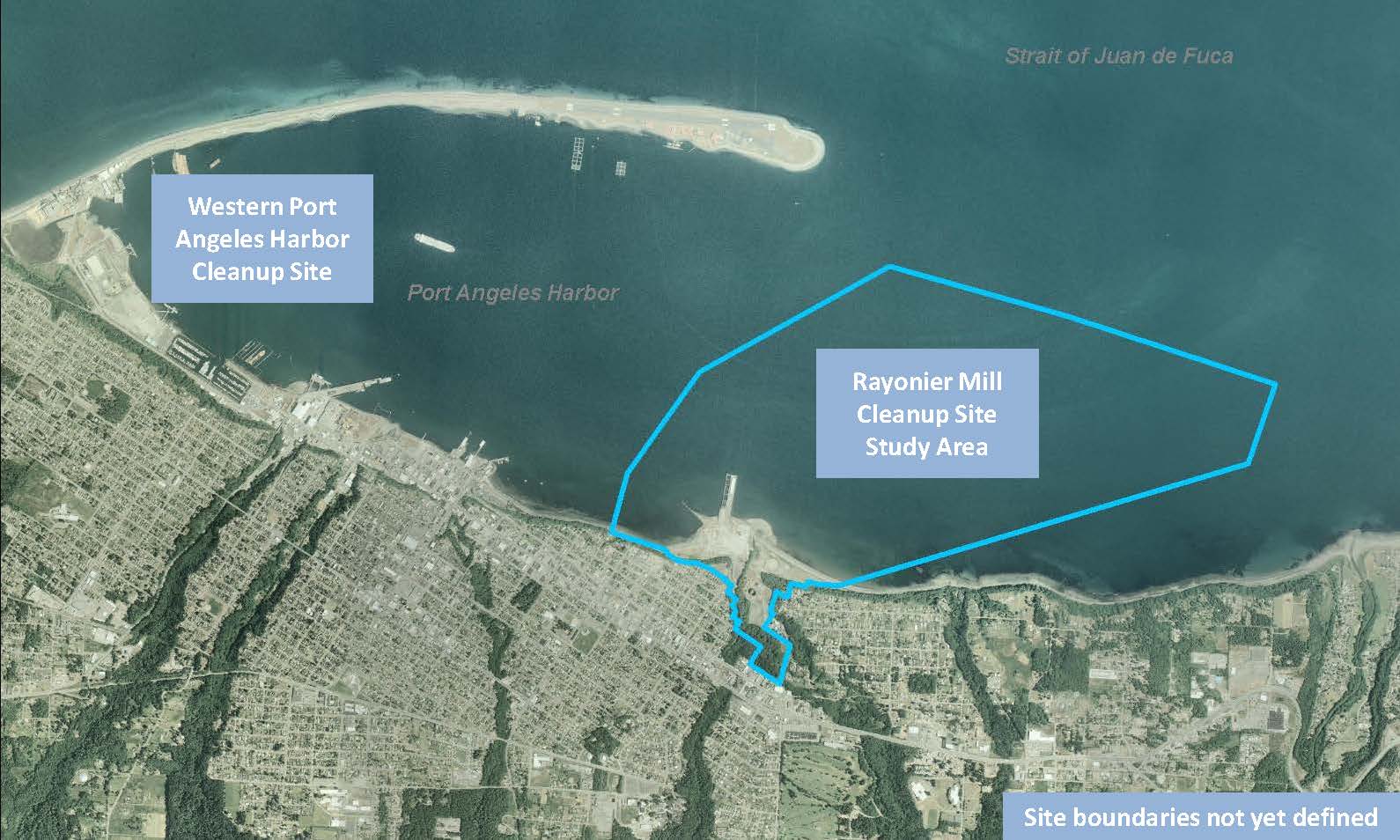 Site background
Port Angeles Harbor has a long history as an important cultural area for Klallam Indians. This continues today through the activities and interests of the three federally recognized Klallam/S'Klallam Tribes: Lower Elwha, Jamestown, and Port Gamble.
Port Angeles Harbor became a busy industrial and shipping hub. Beginning in the 1920s, pulp and paper mills were built along the harbor shoreline. You can read about the many different mills and their owners in the Port Angeles Harbor Pre-assessment Screen.
Over time, hazardous materials polluted the harbor through many different industrial processes, among other causes. Spills, discharges of contaminated groundwater and other materials, air emissions, and stormwater runoff all contributed to contamination in the harbor. Accumulation of wood debris also appears to have impacted the habitat of animals on the harbor floor.
Sampling data show that the harbor is contaminated with many toxic substances. We have evidence this contamination harmed plants, wildlife, and their supporting habitats. These habitats include subtidal, shoreline, estuary, and upland areas of the harbor.
Endangered species that visit and live in the harbor area include Chinook salmon, steelhead, bull trout, and marbled murrelet. Other species that pass through the area include humpback whale, resident orca, Steller sea lion, and Pacific eulachon.
Natural resource damage assessment (NRDA)
Under federal and state law, the parties that discharged hazardous substances resulting in injuries to natural resources are responsible for restoring, replacing, or acquiring the equivalent of the injured resources. The NRDA process is the tool we are using to accomplish this.
Cleanup sites in Port Angeles Harbor
The NRDA process is distinct from the Port Angeles Harbor cleanup process. We are overseeing cleanup work in the harbor.
Our Port Angeles Harbor sediments studies found two major sources of contamination in the harbor — in the inner (western) harbor and near the former Rayonier Mill.
Related links