Cleaning up for a healthier Puget Sound
Cleanup and restoration improves the environment and the economy. We're working to clean up and restore beaches and bays around Puget Sound and the Strait of Juan de Fuca — places where you work, live, and play.
View information below about our baywide actions. Find out where cleanups are happening by taking a look at marine waterways in your area. Restoring waterways and shorelines helps communities thrive and prosper. What's in my Neighborhood will show you Ecology's work across the state.
Through the Governor's Puget Sound Initiative and other funding, we're taking a baywide cleanup approach. We're focusing on multiple cleanup actions in dense industrial bays and other smaller bays to make cleanups cost less, go faster, and create redevelopment opportunities. And to make the Sound available for all to swim, fish, and dig.
Follow the information about these baywide cleanup actions or check out the Public Input & Events Listing to learn about ways that you can share your comments on cleaning up bays and marine waterways.
We're working to clean up Puget Sound and you can help
There are thousands of cleanup sites across Puget Sound. We created teams to focus on cleanup and restoration in our highest priority waterways through the Puget Sound Initiative and Urban Water Cleanup actions. The map below shows locations of our focus on Puget Sound.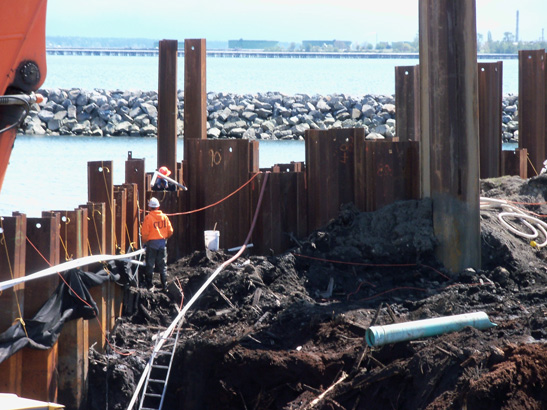 Cleaning up priority bays in Puget Sound
In 2007, we prioritized cleanup and habitat restoration in seven important bays in the greater Puget Sound area. This baywide approach has guided our work over the past decade, resulting in cleanups that are coordinated, cost effective, and achieved more quickly. The goal of baywide cleanups is to protect the most sensitive habitat in Puget Sound, in part with a focus on supporting nursery habitat for herring, salmon, and clean shellfish. Baywide cleanup is an approach that doesn't focus only on one site, but covers an entire bay, harbor or inlet.

Puget Sound priority bays include:




Urban waters cleanup actions
Urban waters are rivers, bays, or other water bodies close to high-population, urban areas. In Washington, examples of urban waters are the Lower Duwamish Waterway in south Seattle, Tacoma's Commencement Bay, and the part of the Spokane River that flows through the city of Spokane. There are others in the state; bodies of water next to populations of 25,000 or more have many features of urban waters.
Urban water cleanup actions include:
Protecting the environment and growing the economy
Community and past industrial activities along shorelines place constant pressure on maintaining the health of Puget sound and the Strait of Juan de Fuca. We're working hard to clean up and protect shorelines and waterways for the benefit of people, wildlife, and the economy. This means removing legacy contaminants along the shoreline and in sediments from the bottom of the Sound and Strait.

We have a long history of cleaning up major urban industrial waterways to help recover the natural environment. We also support cleaner methods for conducting nearshore commerce and shipping activities in areas around Seattle, Tacoma, and Bellingham.
Focusing on the Sound:
Acknowledges the significant economic benefit and natural resource value of Puget Sound to the state.
Coordinates shoreline and sediment cleanups at multiple contaminated sites across a bay.
Identifies seven priority bays for cleanup and restoration by 2020.
Uses tax dollars to support a portion of these cleanups. These efforts help create jobs and restore communities and habitat.
Many of these contaminated sites are the result of generations of industrial activity or lumber milling operations. These operations provided jobs and tax dollars that helped to build the foundations of many communities. We're working to ensure that new activities protect these resources.
Your opinion matters
You can help keep Puget Sound clean and healthy by sharing your comments about our cleanup and restoration plans. We encourage public involvement in cleanup and restoration of contaminated sites. Several opportunities for comment are offered while we plan and prepare for cleanup. You're invited to review proposed legal agreements for cleanup, study results (remedial investigation/feasibility study), and plans for cleaning up sites. We also hold community meetings and bring cleanup information to local festivals and events.
Laws make cleanup more efficient and effective
Washington has strong cleanup laws and rules that help protect resources, communities, and wildlife. Properly implemented laws make cleanup more effective and return property to productive use for owners and communities.
The Model Toxics Control Act (MTCA) is used to manage upland cleanup work. MTCA provides clear requirements on how to investigate contamination, set cleanup levels, conduct cleanup construction, and control sources of contamination.
The Sediment Management Standards is used to manage sediment cleanup work, sediment dredging, and control sources of sediment contamination.
Related links