Soil replacement for residential yards
We're working neighborhood-by-neighborhood to replace soil in qualifying residential yards in the Tacoma Smelter Plume area. We will contact you to discuss options when we reach your neighborhood.
For news on the Yard Program's accomplishments and upcoming work, visit the Yard Program updates page.
Planning for soil replacement
We start the planning process a year before soil replacement takes place. Planning begins with an initial property visit where we meet with the owner, discuss cleanup options, and take measurements and photos for our cleanup design work.
Some properties or portions of yards might not qualify for soil replacement due to steep slopes, retaining walls, and other areas that are excluded from cleanup. We don't remove soil around trees or large plantings, rock walls, ponds, or under pavement or decks. To learn more, read our excluded areas handout.
When we're ready to start the planning process, we mail a letter to property owners inviting them to participate and attend a program orientation meeting.
The soil replacement process
Watch our three part video:
Plant and lawn care after soil replacement
To learn more about how to keep your lawn green naturally, watch the video series on Natural Lawn Care or read our handout on lawn care after soil replacement.
Soil left behind
During soil replacement we work hard to remove all soil contamination above the action level, however, some soil contamination may remain. Soil may be left behind at the base of trees and foundations, along fence lines or at the base of excavation. Read Areas Excluded from Soil Cleanup to learn more.
Soil replacement sequence
We're prioritizing our soil replacement work in the Yard Program service area based on levels of contamination, environmental health disparities, and logistical factors. After considering available data, we developed our soil replacement sequence.
Soil replacement inside the EPA Study Area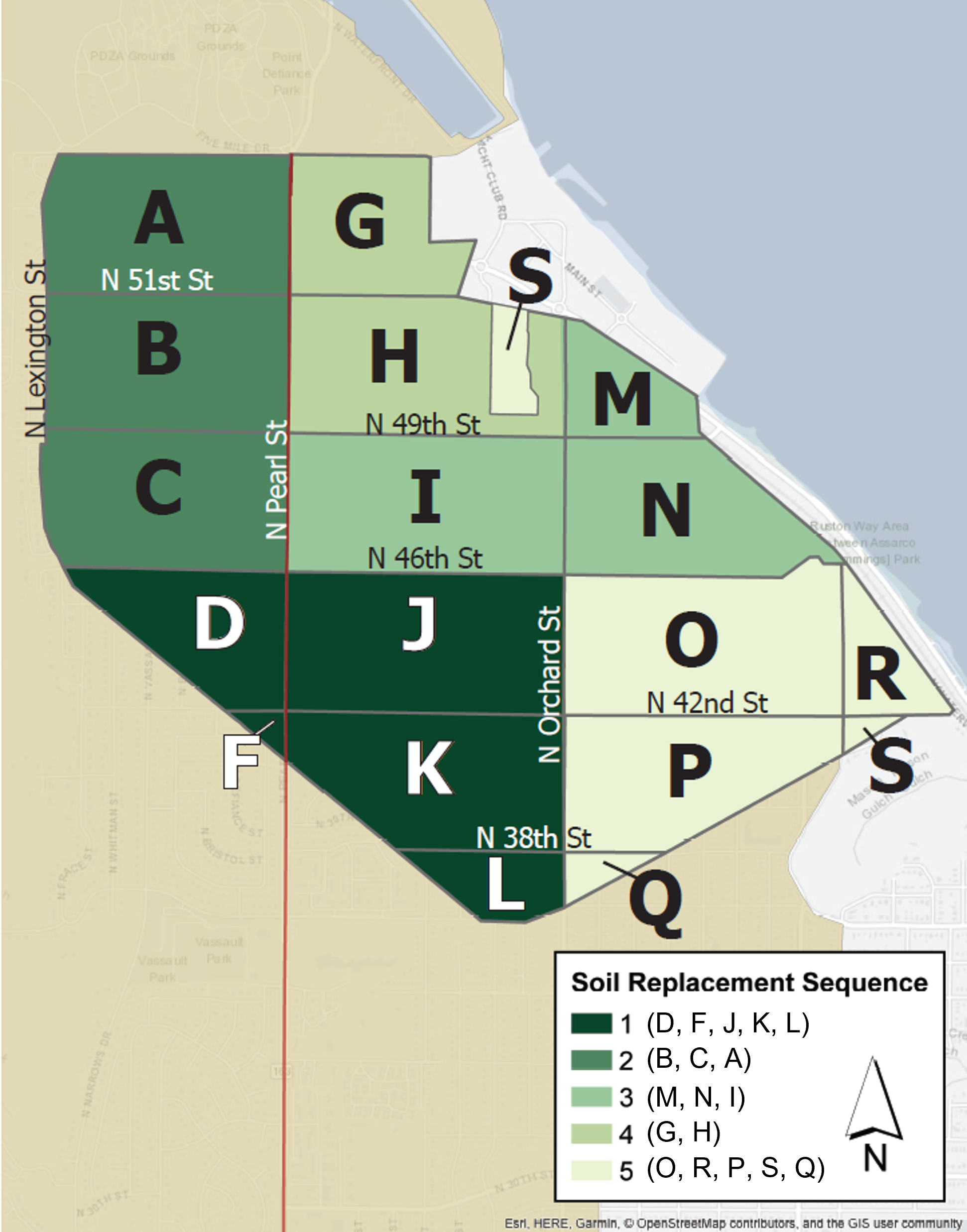 The Study Area is where the Environmental Protection Agency (EPA) oversaw Asarco's soil sampling and replacement work in the early 1990s and 2000s. We're cleaning up within the study area in five stages. Each stage includes two to five lettered property groups.
The soil replacement sequence for the Study Area is based on the percentage of properties with the highest remaining soil contamination and properties that had no EPA soil replacement action.
For more information on the sequence, please see the Program Design and Implementation Plan (March 2013).
Groups D, F, J, K, and L completed
Groups B, C, and A in progress
Groups M, N, and I
Groups G and H
Groups O, R, P, S, and Q
Soil replacement outside the study area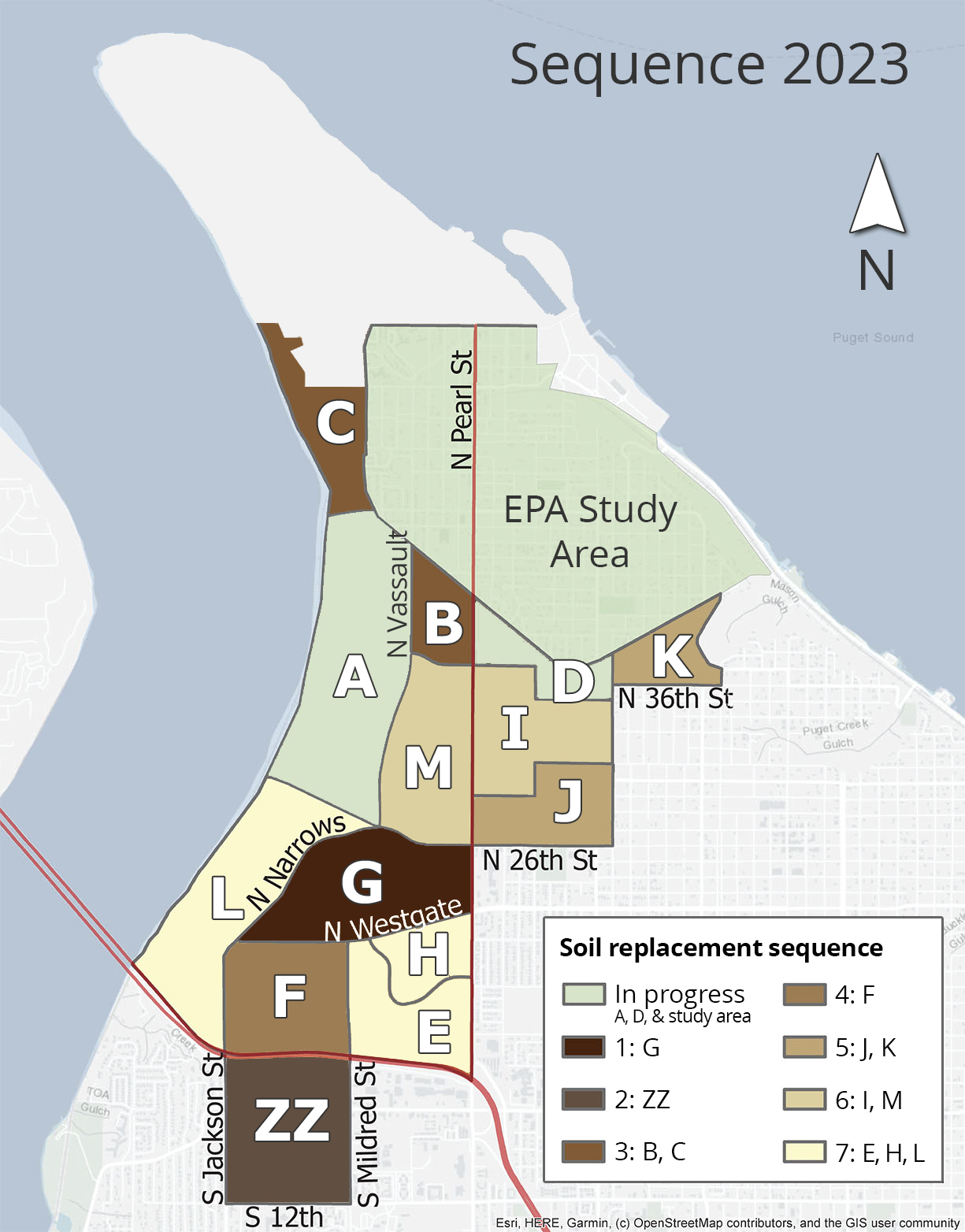 There are seven stages in the Tacoma service area, not counting where we're currently working. Each stage includes one to three lettered property groups.
In 2023, we updated the soil replacement sequence for the Tacoma service area to account for additional contamination data collected between 2015 and 2019. Our updated sequence also considers environmental health disparity data. The new sequence prioritizes cleanup for letter groups with the highest contamination and those experiencing the highest environmental health disparities.
We are currently working on groups A and D. When we finish with these groups, cleanup will move in the following order:
Group G
Group ZZ
Groups B and C
Group F
Group J and K
Groups I and M
Groups H, E, and L
For more information on the sequence update, please see our Yard Program Soil Replacement Sequence Update focus sheet or our Update to the Yard Program Soil Replacement Sequence (2023).
Related links