NRDAR Council restoration projects
Natural Resource Damage Assessment and Restoration (NRDAR) is a tool that we and other natural-resource trustees use to restore, recover, or protect natural resources and habitats affected by contamination. Restoration projects, such as shoreline or river habitat improvements, help fish and wildlife populations recover from contamination. More than 600 acres of habitat projects have been built, and 275 acres have been acquired and protected due to Natural Resource Damage settlements with polluters.
See below for a map and brief description of restoration projects underway or completed resulting from natural resource damage settlements. In many cases, funds from NRDAR settlements have been used to leverage additional funding to expand benefits to the environment. These habitat-restoration projects help natural resources recover from contamination and provide more services to people, including fish and shellfish as a food source, recreational opportunities, and beautiful scenery.
---
Many Natural Resource Damage Assessment and Restoration (NRDAR) restoration projects are underway or completed in Washington. Below are the NRDAR restoration projects that are related to toxics-cleanup sites. Natural resource damages due to spills to water are evaluated by our Spill Preparedness and Response program.
NRDAR projects in Washington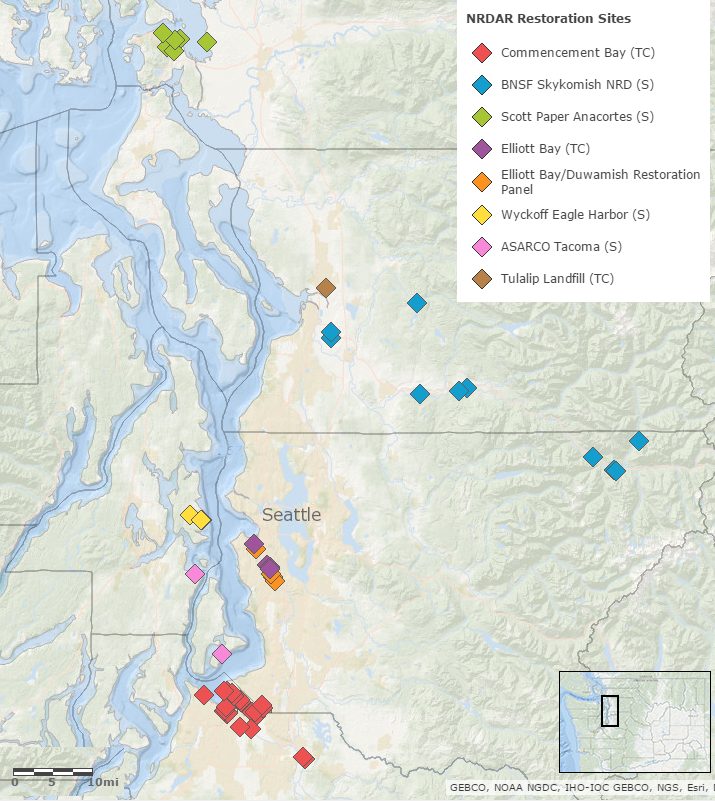 Table of NRDAR Projects
| Settlement name | Restoration |
| --- | --- |
| ASARCO Tacoma NRD Settlement | A 2010 settlement provided $8.2 million for two projects: |
| BNSF Skykomish NRD Settlement | A 2007 settlement provided $5.5 million for 12 restoration and water quality projects on the Snohomish River, including its tributaries and the estuary. Major projects included the treatment plant expansion for Skykomish, Maloney Creek restoration, and contribution to Qwuloolt Estuary project. |
| Commencement Bay Trustee Council | Since the early 1990s, the Trustee Council has completed settlements resulting in 22 habitat restoration projects in the Tacoma area. These projects contribute to salmon recovery and benefit other fish, birds, and wildlife. |
| Elliott Bay Trustee Council | Four Duwamish habitat restoration projects were completed as a result of a 1991 settlement with City of Seattle and Metro. Two additional Duwamish habitat restoration projects have been completed by Boeing Company and Bluefields, Inc. |
| Scott Paper Mill Anacortes Settlement | A 2010 settlement provided funds for eelgrass restoration, oyster restoration, and several other habitat improvement projects in Fidalgo and Padilla bays. |
| Tulalip Landfill Trustee Council | The Trustee Council settlement provided $2.4 million towards the construction of Qwuloolt Estuary restoration, a 350-acre intertidal habitat project in the Snohomish River Estuary. |
| Wyckoff Eagle Harbor Settlement | A settlement provided funds for two shoreline restoration projects and an eelgrass restoration project on Bainbridge Island. |
Related links