Natural Resource Damage Assessment and Restoration
Natural Resource Damage Assessment and Restoration (NRDAR) is a tool we and other natural resource trustees use to restore, recover, or protect natural resources and habitats affected by contamination. Restoration projects, such as shoreline or river habitat improvements, help fish and wildlife populations recover from contamination. More than 600 acres of habitat projects have been built due to Natural Resource Damage settlements with polluters.
---
What NRDAR does
NRDAR allows state and federal agencies and tribal governments to determine restoration to compensate for contaminant injuries to natural resources. Contamination can injure natural resources such as land, water, or sediment that provide habitat or other services. Contamination of land, water, or sediment can injure fish, birds, wildlife, and other biological resources.
State and federal resource agencies and tribal governments work together to determine damages and reach agreements with liable businesses, ports, and governments to restore the injured resources. Many NRDAR efforts have focused on restoring aquatic ecosystems. They create or improve habitats to benefit salmon and other aquatic life, and birds and wildlife dependent on the ecosystem. Restoration also benefits people who use natural resources as a source of food, recreation, and other enjoyment.
What are the results of NRDAR?
Typical restoration projects might include:
Creating or improving nearshore habitat such as wetlands, mudflats, and riparian buffers.
Improving river habitats and protecting floodplains.
NRDAR settlements have created or contributed to over 600 acres of habitat improvements and 275 acres of habitat acquired and protected. The map and table below show NRDAR restoration projects in Washington. Visit our NRDAR Trustee Council projects page to see a map and more details about those restoration projects.
Many Natural Resource Damage Assessment and Restoration efforts are underway in Washington. Some efforts have completed restoration settlements, and some are still in process. Many NRDAR efforts are carried out by a Trustee Council of state and federal agencies and tribal governments that have natural resources injured by contamination. Natural resource damages due to spills to water are evaluated by our Spill Preparedness and Response program.
Natural Resource Damage Assessment and Restoration Efforts in Washington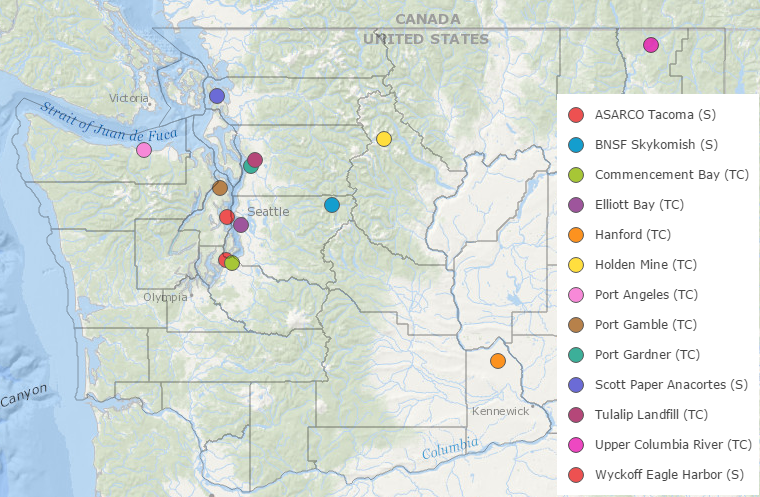 Table of past and current NRDAR efforts
| Case Name | Status |
| --- | --- |
| ASARCO Tacoma NRD Settlement | A 2010 settlement provided $8.2 million that contributed to the purchase of Maury Island Natural Area, and restoration of Harper Estuary. |
| BNSF Skykomish NRD Settlement | A 2007 settlement provided $5.5 million for 12 restoration and water quality projects. |
| Commencement Bay Trustee Council | Since the early 1990s, the Trustee Council has completed settlements to build 22 habitat restoration projects in the Tacoma area. |
| Elliott Bay Trustee Council | The Trustee Council is assessing injury in the Lower Duwamish, Harbor Island, and Lockheed Superfund sites. Several restoration projects have been completed and more are in process. |
| Hanford Trustee Council | The Trustee Council is assessing injury to natural resources at the Hanford cleanup site. |
| Holden Mine Trustee Council | The Trustee Council is assessing injury to natural resources at the Holden Mine cleanup site. |
| Port Angeles Trustee Council | The Trustee Council is assessing injury to natural resources in Port Angeles Harbor area. |
| Port Gamble Trustee Council | The Trustee Council is assessing injury to natural resources in Port Gamble Bay. |
| Port Gardner Trustee Council | The Trustee Council is assessing injury to natural resources in Everett and Port Gardner Bay. |
| Scott Paper Mill Anacortes Settlement | A 2010 settlement provided funds for eelgrass restoration, oyster restoration, and several other habitat improvement projects in Fidalgo and Padilla Bays. |
| Tulalip Landfill Trustee Council | The Trustee Council settlement provided $2.4 million towards the construction of Qwuloolt estuary restoration, a 350-acre intertidal habitat project in the Snohomish River estuary. |
| Upper Columbia River Trustee Council | The Trustee Council is assessing injury to natural resources in the Upper Columbia River and Lake Roosevelt. |
| Wyckoff Eagle Harbor Settlement | A settlement provided funds for two shoreline restoration projects and an eelgrass restoration project on Bainbridge Island. |
Related links