Applying to the Voluntary Cleanup Program
Apply to the Voluntary Cleanup Program (VCP) here. There are two pathways to cleanup in the VCP:
---
Choose the process you're applying for
A complete Standard VCP application must contain all of the following.
Our goal is to respond within 10 days of receiving your complete Standard VCP application. We may request additional information. We will inform you of our decision in writing. Some regions may have a wait list because of limited resources. Join the VCP email list to receive waiting list updates.
Send your application to the contact for the region in which your site is located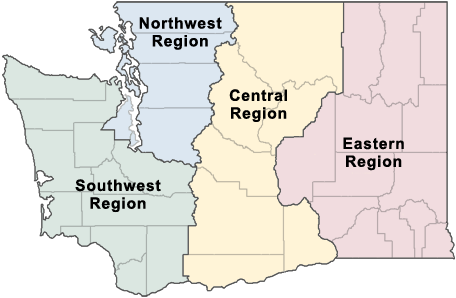 Northwest Region
Island, King, Kitsap, San Juan, Skagit, Snohomish, and Whatcom counties
Southwest Region
Clallam, Clark, Cowlitz, Grays Harbor, Jefferson, Mason, Lewis, Pacific, Pierce, Skamania, Thurston, and Wahkiakum counties
Central Region
Benton, Chelan, Douglas, Kittitas, Klickitat, Okanogan, and Yakima counties
Eastern Region
Adams, Asotin, Columbia, Ferry, Franklin, Garfield, Grant, Lincoln, Pend Oreille, Spokane, Stevens, Walla Walla, and Whitman counties
Expedited VCP applications are accepted only during specific times. Visit the Expedited VCP webpage to find out when Expedited VCP applications are being accepted.
Please send your application to vcp-exp@ecy.wa.gov. Your complete Expedited VCP application must contain all of the following:
To send us large files, please use your preferred file transfer service to share files with vcp-exp@ecy.wa.gov, or contact us for assistance on using Ecology's file transfer service.