Cap-and-invest auction proceeds

The quarterly auctions that are the linchpin of Washington's cap-and-invest program will generate substantial revenue that must, by law, be invested in critical climate projects throughout the state.
Among other things, these proceeds will be used to increase climate resiliency, fund alternative-transportation grant programs, and help Washington transition to a low-carbon economy.
---
Account structure
The Climate Commitment Act (CCA) established three primary accounts and two sub-accounts to house cap-and-invest auction proceeds until they are appropriated for specific projects by the Legislature. During the 2022 legislative session, ESSB 5974 established two additional sub-accounts under the Carbon Emissions Reduction Account. Funds in each of these seven accounts are earmarked for specific types of climate, environmental justice, and ecological projects.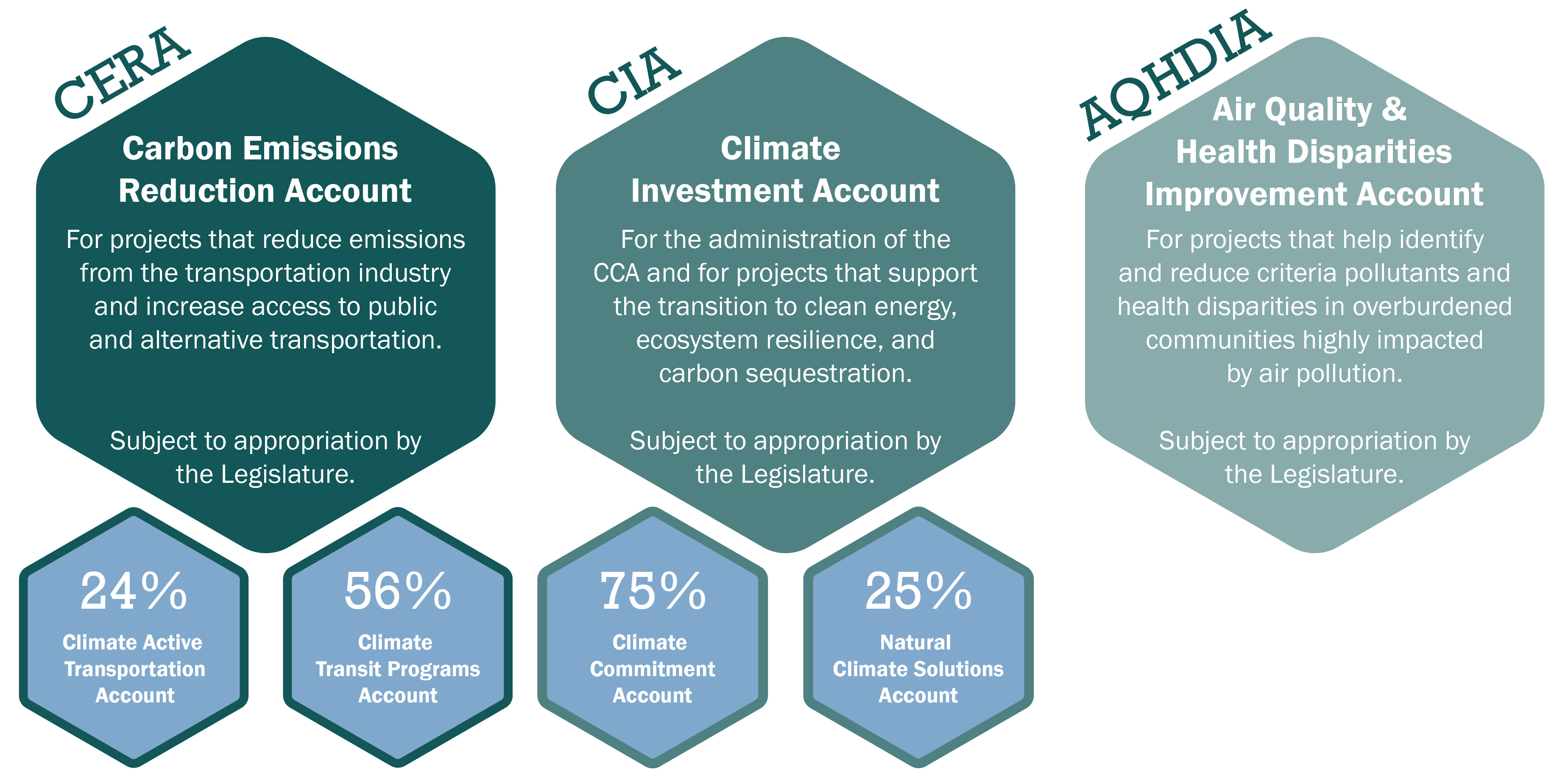 Project types eligible for CCA funding
While all auction proceeds must be appropriated by the Legislature, there are some specific project types that are eligible for this funding by law.
Carbon Emissions Reduction Account (CERA)
The funds deposited in this account must be used for projects that focus on:
Reducing transportation emissions
Investing in alternatives and reductions to single occupancy passenger vehicles
Investing in emissions reduction programs for freight, ferries, and ports
Eighty percent of CERA funds are annually transferred to two sub-accounts, which each focus on a more specific aspect of decarbonization within the transportation industry:
Climate Investment Account (CIA)
Auction proceeds deposited in the Climate Investment Account (CIA) are first used to fund the administration of the cap-and-invest program, but these expenses cannot exceed 5% of total auction revenue.
Once administrative costs are covered, the remaining proceeds are allocated to two sub-accounts focused on projects that support increasing climate resiliency in Washington communities and ecosystems:
Air Quality & Health Disparities Improvement Account (AQHDIA)
Funds deposited in this account must be used for projects that address issues of environmental justice and health inequity in the state, such as:
Funding the expansion of Ecology's air monitoring network in overburdened communities highly impacted by air pollution
The development and implementation of strategies to reduce health disparities in those communities
Funding environmental justice
While the Legislature is responsible for selecting which projects are funded with auction proceeds, the CCA does include some specific requirements that ensure the benefits of this powerful program are enjoyed by all of Washington. In fact, the law specifically directs the Environmental Justice Council to provide recommendations to the Legislature on which projects receive funding.
The CCA also requires that a minimum of 35%, with a goal of 40%, of auction-generated revenue be used for projects that provide a direct benefit to vulnerable populations within overburdened communities. In addition, 10% of auction funds must be used for projects with Tribal support.
We are required to provide the Legislature and the public with an annual report detailing how auction funding is used. In addition, any agency receiving CCA funding must provide a report to the Environmental Justice Council documenting progress toward environmental justice and health equity goals.
Learn more
Related links