Generating credits in the Clean Fuel Standard
The Clean Fuel Standard offers several opportunities to earn credits, including producing or supplying low-carbon fuels and installing fueling infrastructure.
Fuel credits
Registered parties may generate credits for producing or supplying low-carbon fuels — fuels with a carbon intensity below the standard for that year – in Washington. Examples of clean fuel providers include businesses that supply biofuels, own electric vehicle charging stations, or operate natural gas refueling stations.​
How to earn revenue from fuel credits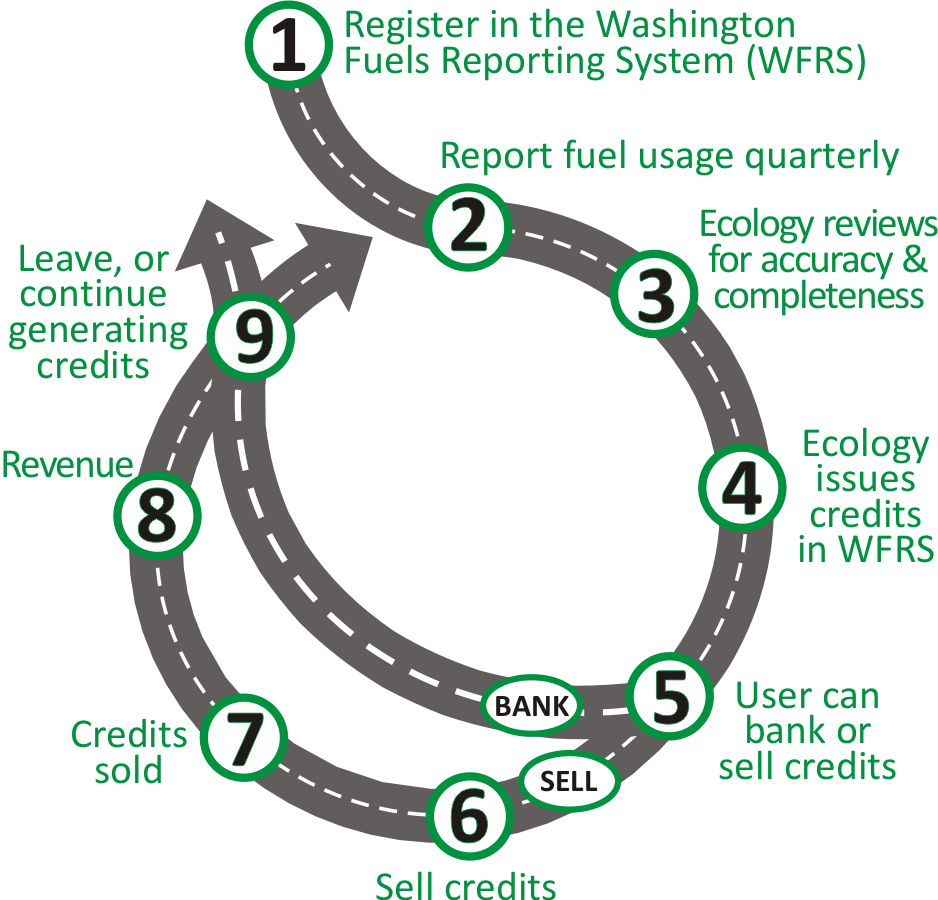 Register in the Washington Fuels Reporting System (WFRS).
Determine if your fuel will generate deficits or credits

Standard – Amount of fuel x carbon intensity = credits or deficits
(positive number = credits; negative number = deficits)
Until Ecology certifies a carbon intensity, fuel suppliers may use a temporary fuel pathway code for the type of fuel they supply or produce.

Report quarterly on energy usage and fuel pathways.
Ecology verifies fuel calculations and reporting.
Ecology issues credits through WFRS.
Decide to bank or sell credits. If banking, go to step 9.
Sell credits.
Credits sold.
Receive revenue.
Leave or continue generating credits. If continuing, go to step 2.
Capacity credits
This crediting mechanism is designed to support the expansion of low-carbon fueling infrastructure, specifically DC fast charging and hydrogen refueling infrastructure. Crediting for zero-emission vehicle infrastructure is based on the capacity of the hydrogen station or electric vehicle fast charging site minus the actual fuel dispensed.
Capacity credits are generated by those who install low carbon fueling stations. These include:
DC fast charging – DC fast charging (DCFC) is the fastest of the three levels of charging available, making it ideal for traveling extended distances that require short recharge stops along the way. To help expand availability of these chargers, the Clean Fuel Standard offers credits to entities that install DCFS stations. Learn more about electric vehicle charging.
Hydrogen refueling stations – Hydrogen-powered fuel cell electric vehicles (FCEVs) could play a significant role in reducing Washington's greenhouse gas emissions. Those entities which install infrastructure to support growth of this technology may earn credits under the Clean Fuel Standard. Learn more about fuel cell electric vehicles.
Advance credits
Public entities may apply to borrow against future credit generation to purchase electric vehicles, such as ferries.
Related links