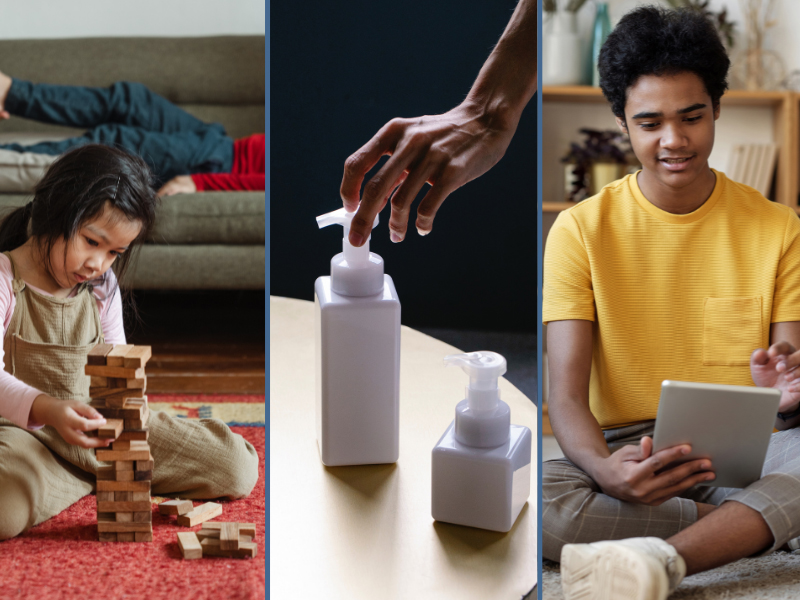 Did you know there are thousands of chemicals in consumer products that scientists never tested to see if they are potentially harmful? Our product manufacturing, use, and disposal is causing many environmental problems and harming our health. The good news is our Safer Products for Washington program is doing something about it.
We need your help figuring out which consumer products to regulate. If you use products (and we all do!), we want to hear from you.
The Safer Products for Washington program implements a law passed in 2019. It gives Ecology some of the strongest authority in the nation to make sure that when you go to the store, over time, you find fewer and fewer harmful chemicals in products. Implementing this law in cycles means we'll continue to look for new chemicals and products in the future.
What's new with the program: Public comment period and rulemaking
We're kicking off our rulemaking process this November. In parallel, we also just published a draft report to the Legislature. The report outlines our potential regulatory actions to address harmful chemicals in 11 different categories of consumer products we prioritized. Through the rulemaking process, we will implement the regulatory actions we outline in the final report to the Legislature (due June 2022).
Our draft regulatory actions include restrictions on:
Flame retardants in the enclosures for electric and electronic products (such as a laptop casing), and recreational foam (like gym mats and foam pits).
Polychlorinated biphenyls (PCBs) in paints and printing inks—which are created inadvertently during pigment manufacturing.
Per- and polyfluoroalkyl substances (PFAS)—sometimes called "forever chemicals"— in carpets and rugs, leather and textile home furniture and furnishings, and treatment sprays for textile and leather products.
Bisphenols in drink can linings and thermal paper (like store receipts).
Alkylphenol ethoxylates (APEs) in laundry detergents.
Phthalates in vinyl flooring and personal care and beauty products (like shampoo, lotion, and perfume).
We're opening a 60-day public comment period starting Nov. 17, 2021 and closing Jan. 14, 2022. We welcome and appreciate your input!
Sharing input: Public and community organization stakeholders
The draft report is complex, but you don't need to be an expert to help drive our work! Check out our new story map on the Safer Products for Washington webpage. You can flip through interactive slides to with information about these products. You can also learn tips for purchasing safer options and protecting yourself from exposure to toxic chemicals.
How we'll use your input
After you check out the story map, please fill out to our short public feedback survey—it will only take a few minutes. Your input about products that concern you will help us:
Understand whether Washington communities support regulatory actions on harmful chemicals in products.
Prioritize which education materials we should create.
Figure out what products to evaluate and consider regulating in the next cycle of our program.
Community feedback inspired us to expand our current list of products, and we hope community groups and the public can help us build the next list.
Sharing input: Industry, the potentially regulated community, and all other stakeholders
We're grateful for the insight we've heard from stakeholders about our priority products and our process to date. Now it's time to get into the details. What questions do you have about the regulatory actions? If you'd be affected by these potential actions, what input do you have about your ability to implement them? Please share your feedback!
Here is how to provide input:
Use our online comment form.
Join our public meeting to ask questions and share input.
Send an email to our team at SaferProductsWA@ecy.wa.gov.
Send us a written comment in the mail: Cheryl Niemi, Department of Ecology, P.O. Box 47600, Olympia, WA 98504-7600.
Call our team's outreach staff at 360-999-7566 if you need translation or interpretation!
At the end of the comment period, we'll integrate input from our stakeholders and the public, and submit a final report to the Legislature next summer. Find out more on our program webpage, our rulemaking webpage, our stakeholder webpage, or subscribe to our email list. If you have questions, don't hesitate to reach out to us at SaferProductsWA@ecy.wa.gov.