Litter pickup
According to our 2022 litter study, more than 26 million pounds of litter accumulates along Washington's roads and interchanges every year. Public areas like parks, recreation areas, and rest areas see 11.6 million pounds annually. Litter is an eyesore, harms wildlife and the environment, and puts motorists at risk. Each year, our state spends up to $12 million to fund cleanup efforts, but we can only address a fraction of the problem.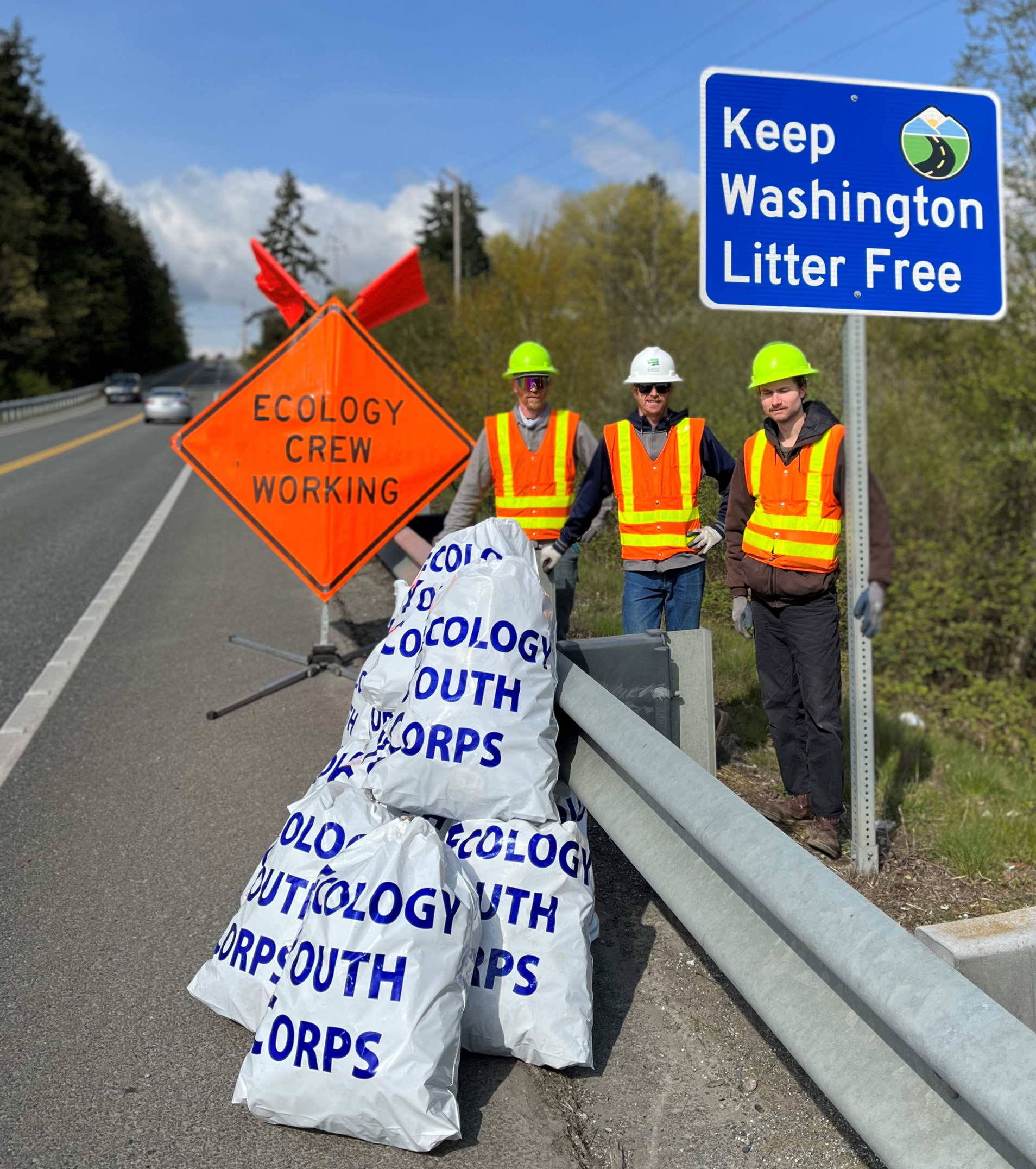 Litter pickup statistics
Litter-pickup programs we funded collected more than 5.4 million pounds (2,704 tons) of litter and cleaned nearly 16,000 miles of road, statewide, in 2022. See how much litter crews picked up in your area.
Statewide results
Regional and county results
Other statewide litter-pickup efforts
In addition to the efforts we fund, the Washington Dept. of Transportation (WSDOT) oversees litter-collection programs and an Adopt-a-Highway program for state highways. Their crews pick up and dispose of litter bags from our crews, as well as those from Department of Corrections, Adopt-a-Highway volunteers, and WSDOT maintenance crews. They pick up and dispose of large debris, as well, such as furniture, tires, and dead animals.
Contact your local Adopt-a-Highway coordinator to volunteer on a state highway near your community.
Related links
Contact information
Amber Smith
Statewide litter prevention coordinator
amber.smith@ecy.wa.gov
360-688-4957
Maggie Gray
Southwest Region litter administrator
Counties: Clallam, Clark, Cowlitz, Grays Harbor, Jefferson, Lewis, Mason, Pacific, Pierce, Skamania, Thurston, Wahkiakum
maggie.gray@ecy.wa.gov
360-789-9601
Rod Hankinson
Central Region litter administrator
Counties: Benton, Chelan, Douglas, Kittitas, Klickitat, Okanogan, Yakima
rodney.hankinson@ecy.wa.gov
509-454-7209
Justin Boneau
Northwest Region litter administrator
Counties: Island, King, Kitsap, San Juan, Skagit, Snohomish, Whatcom
justin.boneau@ecy.wa.gov
425-213-3563
Ryan Plouse
Eastern Region litter administrator
Counties: Adams, Asotin, Columbia, Ferry, Franklin, Garfield, Grant, Lincoln, Pend Oreille, Spokane, Stevens, Walla Walla, Whitman
ryan.plouse@ecy.wa.gov
509-951-2132