River and stream monitoring
Our freshwater monitoring program examines current water quality and streamflow conditions and studies trends in stream health over time.Healthy communities rely on rivers and streams to meet their needs. Healthy rivers and streams depend on clean and abundant water supplies.
The data we collect help us make decisions on how to meet the water needs of people, wildlife, and the natural environment. We also study habitat to learn what kinds of plants and animals freshwater ecosystems support. We:
sample water to identify chemicals, bacteria, oxygen levels, and other parameters;
measure how much water is in rivers and streams across the state; and
measure toxic chemicals in freshwater environments by studying toxic chemicals in fish tissue and suspended sediments or floating particulates.
---
We study water quality in rivers and streams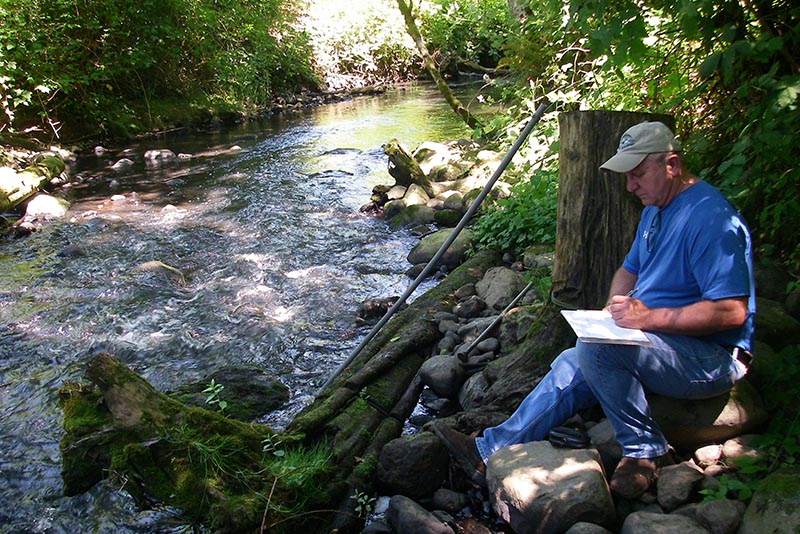 Our work relies on sound data and monitoring to support cleanup projects and to assure those efforts are effective. We sample rivers and streams to be sure they meet state and federal water quality standards. Our staff and partners use this information to guide our response to pollution and to prevent exposures to chemicals, bacteria, and other harmful conditions for people, aquatic, and animal life.

Our water quality for rivers & streams page discusses the long-term ambient monitoring program and links to data and publications.
We study how much water is in rivers and streams
Streamflow monitoring provides water managers with the information they need to respond to drought, seasonal flooding, and other water concerns across the state. This information can be crucial for community water supplies, irrigation, and fish survival.
Learn more about river & stream flow monitoring methods and nearly real-time streamflow and water-quality information.
We study plants and animals in stream habitats
We monitor habitat to assess the health of plants and animals in rivers and streams. This information helps fish and wildlife biologists protect our state's varied aquatic plant and animal species. It also provides important information for decision-makers associated with land-use decisions and environmental protection.
We look at toxic chemicals in freshwater environments
Toxic chemical exposures in fish species can indicate ongoing sources of pollution, such as mercury and other heavy metals. Understanding what pollutants fish are exposed to can help health officials know how safe the species are to eat. They may issue fish consumption advisories related to data, and cleanup plans may be launched to eliminate pollution to our freshwater lakes, rivers and creeks.
The freshwater fish contaminant monitoring program samples fish and water across Washington to characterize levels of toxic contaminants and determine changes in levels over time.
Mercury in fish tissue samples fish in rivers, streams, and lakes for mercury contamination. We have been looking for trends in mercury since 2005.
We study environmental management practices
Related links