Swift Creek project
Ecology and Whatcom County Public Works Department are collaborating on the Swift Creek flood control and sediment management project located east of Everson near Sumas Mountain. A large landslide on the mountain deposits naturally-occurring asbestos and metals in the creek bed sediment.
Current status
Construction of the Swift Creek Action Plan began in 2021. Whatcom County has made significant design progress since we finalized the plan at the end of 2019.
See the construction update below for an estimated timeline with descriptions of the engineering design.
Health information
Swift Creek and downstream Sumas River carry asbestos from the Sumas Mountain landslide. In dry weather, sediments containing asbestos pose a hazard.
Periodically, the Washington State Department of Health will check for asbestos-related health issues in people living around Swift Creek and Sumas Mountain.
Read below for the latest asbestos-related health information.
What happens next?

Ongoing: Continue project implementation and remaining design based on 2023–2025 state budget.
Early 2025: Seek remaining funding for project completion from the State Legislature during 2025–2027 budget planning.
Construction update
The diagram below shows the project's engineered controls and the estimated construction schedule.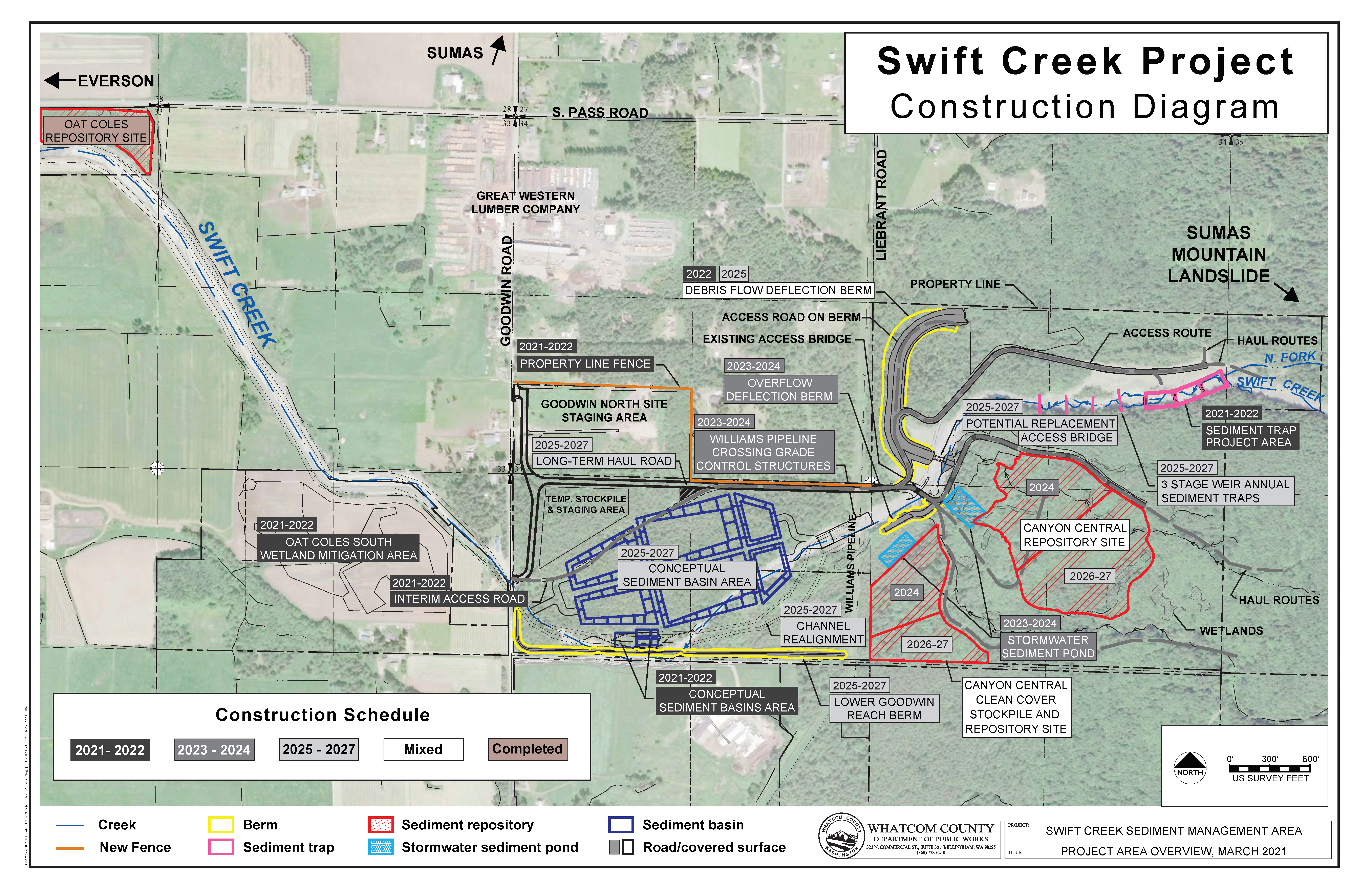 Estimated construction schedule
Engineered controls listed below are generally by elevation from uphill to downhill and/or east to west (or right to left on above diagram).
Swift Creek Action Plan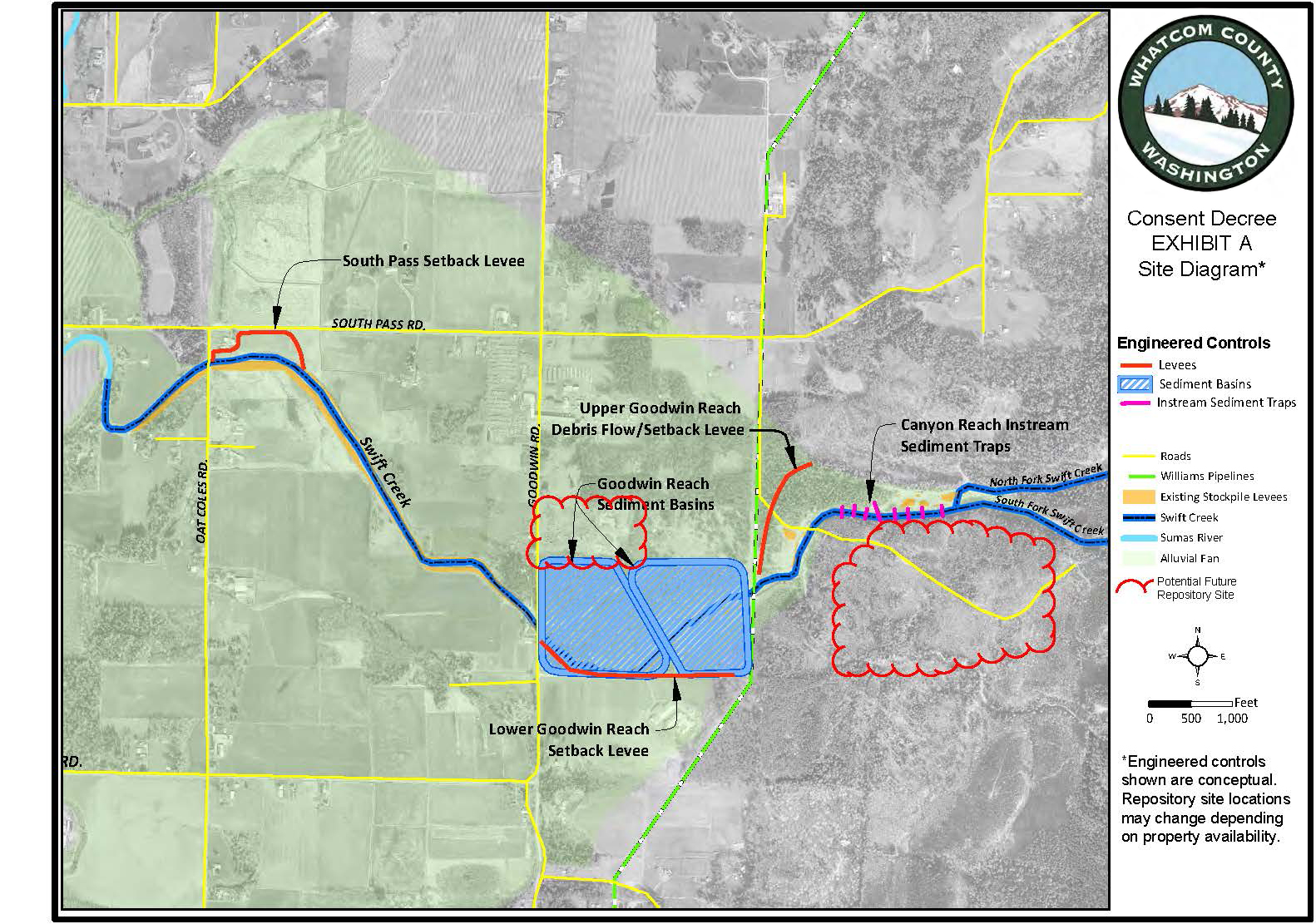 The Swift Creek Action Plan (December 2019) created a flood control and sediment management system that is designed to reduce risk from naturally-occurring asbestos and metals in Swift Creek sediment that harm, or could potentially harm, humans and the environment.
See the 2019 map to the right for an overview of the Swift Creek Action Plan's engineered controls. (For an updated construction schedule see the section above.)
Summary of Action Plan components
Location
Swift Creek is in the northeastern lowlands of Whatcom County. The South Fork of Swift Creek originates from the toe (downslope end) of an ongoing, slowly moving landslide on Sumas Mountain. Swift Creek flows generally westward before joining the Sumas River near the city of Nooksack.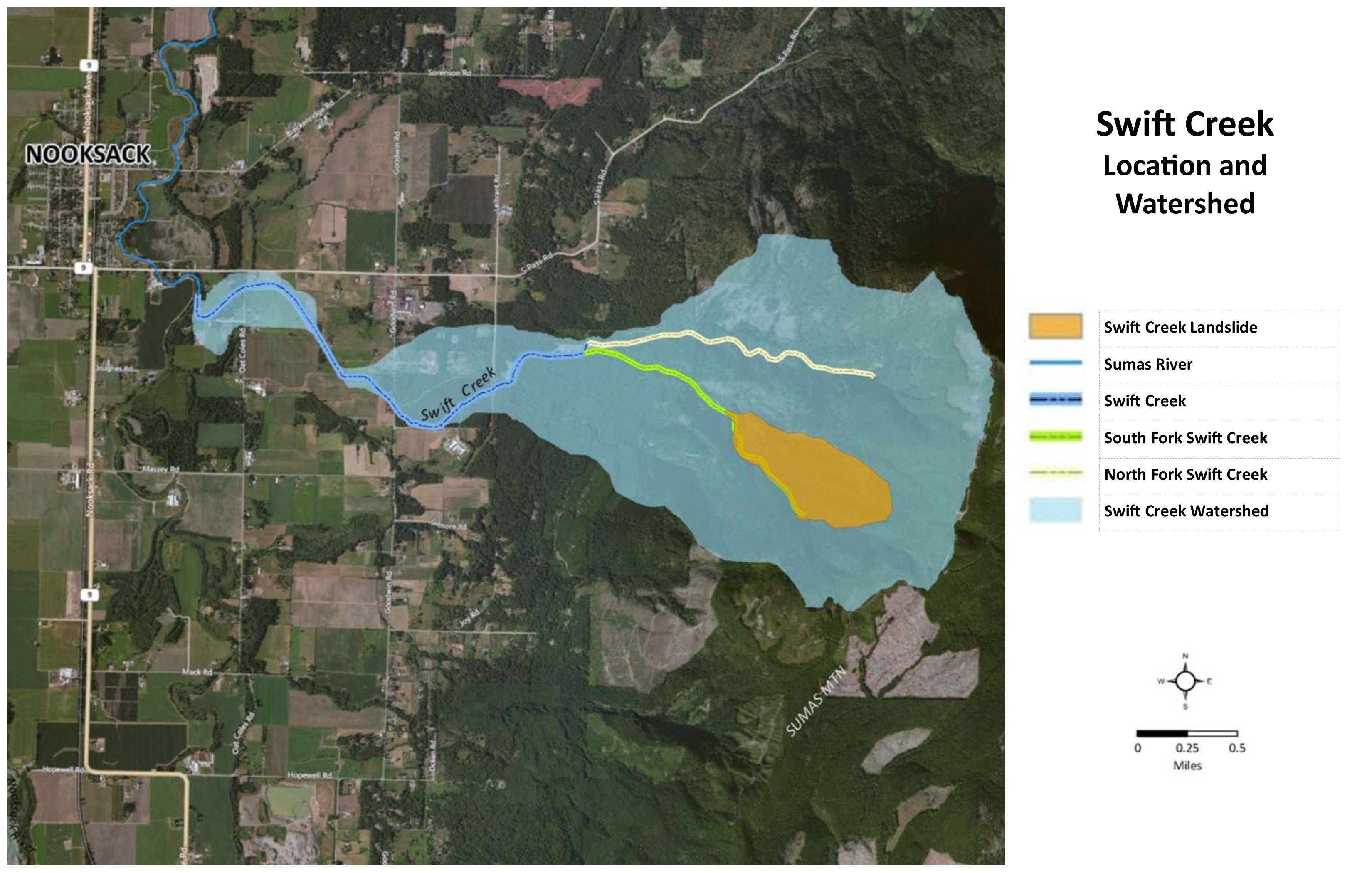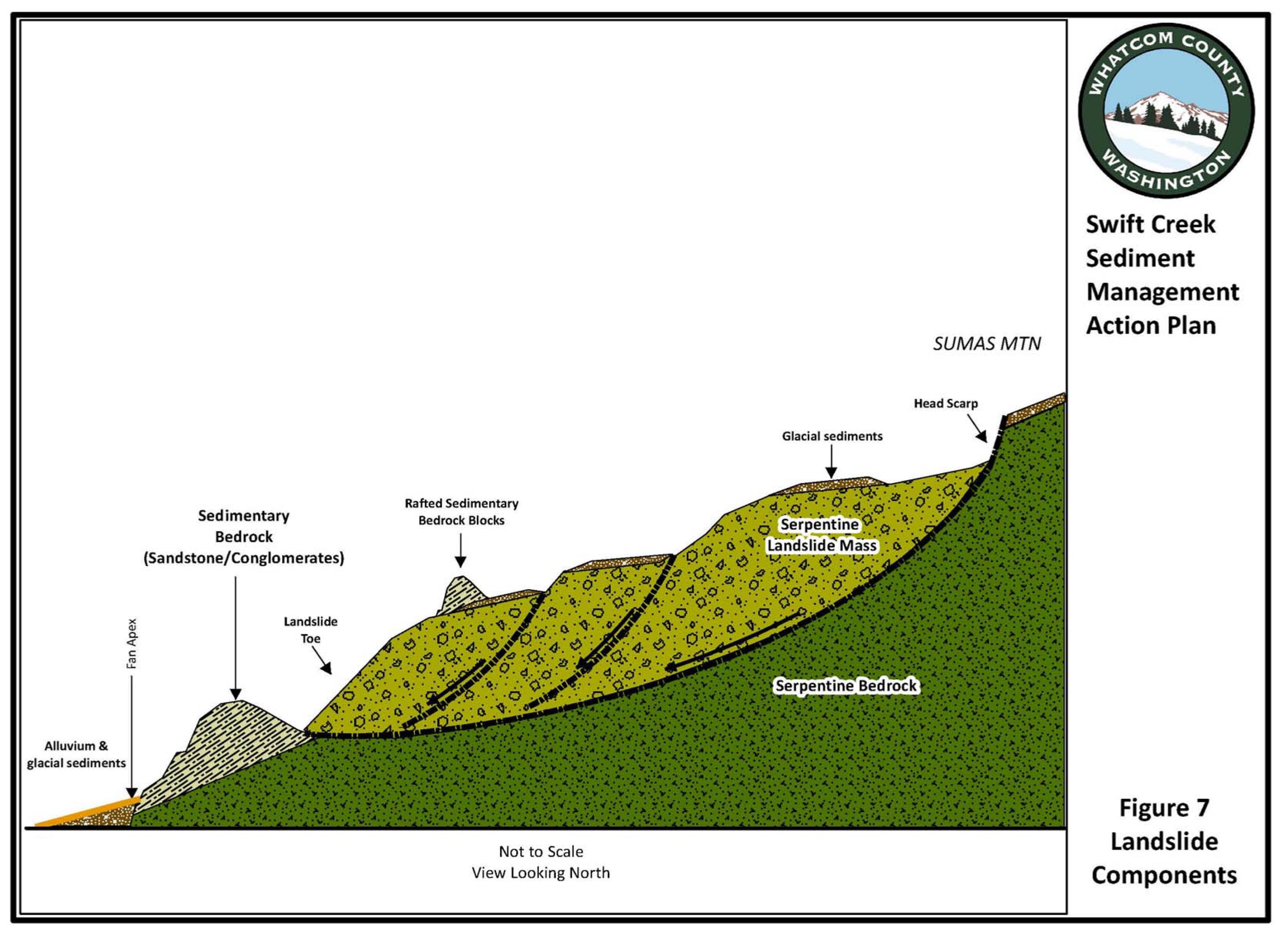 Landslide, flooding, and sediment
The 225-acre landslide on Sumas Mountain has resulted in a large amount of sediment containing naturally-occurring asbestos (NOA) and metals continuously filling up the creek bed. For several decades Swift Creek has been dredged to manage sediment and limit downstream flooding. When the deposited sediment material dries, NOA in the sediment can become airborne and present a risk to human health and the environment. The main concern with the metals in the sediment is the impact to plants on land and aquatic life.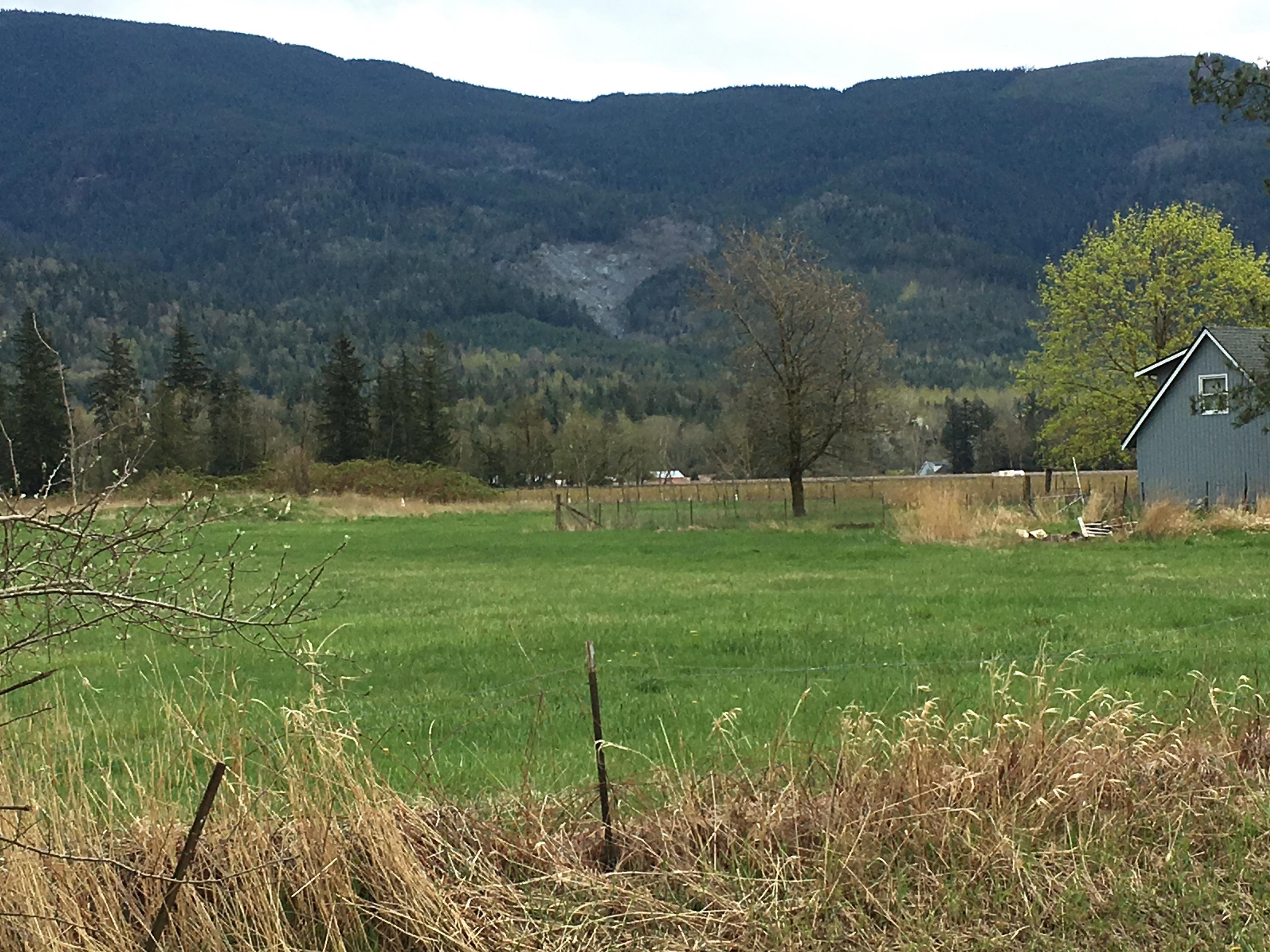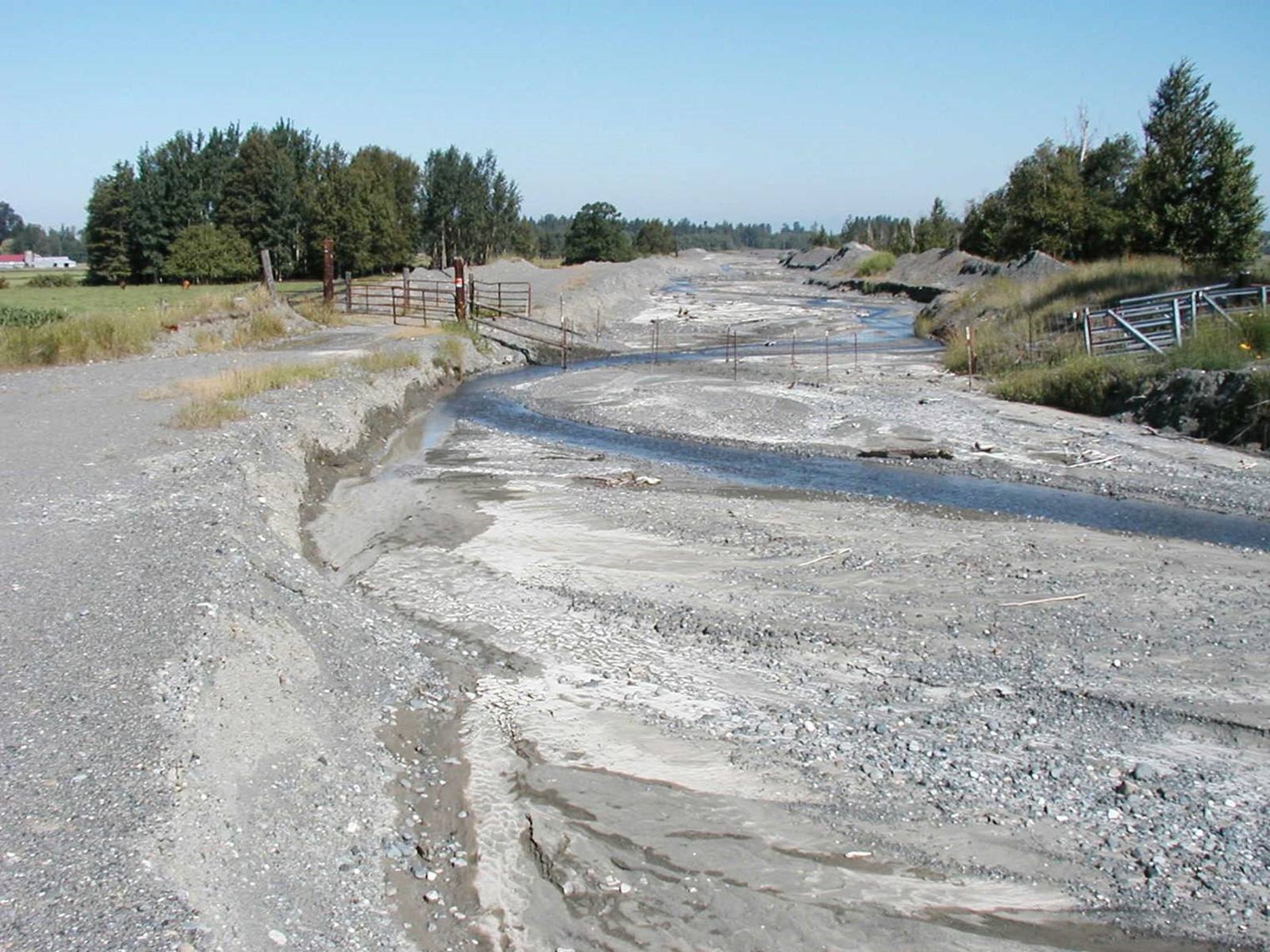 Documents
Select from the tabs below to view Swift Creek Project documents.
During active public comment periods, physical copies of documents will be available for review at:
En español
El Departamento de Ecología del Estado de Washington y el Departamento de Obras Públicas del Condado de Whatcom están colaborando en el proyecto de control de inundaciones y manejo de sedimentos de Swift Creek ubicado al este de Everson, cerca de Sumas Mountain.
Related links
Contact information
Ian Fawley
Department of Ecology
Senior Outreach Planner
Ian.Fawley@ecy.wa.gov
425-324-5901

Laura Vandervort, P.E.
Whatcom County Public Works
Senior Engineer, Bridge & Hydraulics
LVanderv@co.whatcom.wa.us
360-778-6307
Jennifer Hayden, RS
Whatcom County Health and Community Services
Environmental Health Supervisor
jhayden@co.whatcom.wa.us
360-778-6036