About Padilla Bay
Padilla Bay is an estuary in Puget Sound at the saltwater edge of the Skagit River delta. It is about eight miles long north to south, and three miles across. In 1980, this bay was selected to be included in the National Estuarine Research Reserve System because of its extensive eelgrass meadows.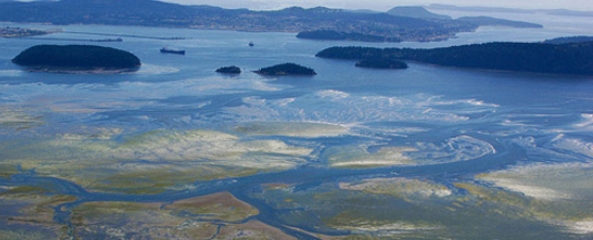 Since the bay is filled with sediment from the Skagit River, the bottom is very shallow, flat, and muddy. It is so shallow that almost the whole bay is intertidal. This means it is flooded at high tide but when the tide goes out, the whole bay empties, exposing miles of mud flats. This condition allows unusually large eelgrass meadows to grow. Padilla Bay's nearly 8,000 acres of eelgrass is a key reason it is protected.
Eelgrass is valuable because it is habitat for wildlife and commercially-harvested animals. Eelgrass is used as a nursery by salmon, crab, perch, and herring. Eelgrass is also home for millions of worms, shrimp, clams, and other invertebrates that are food for great blue herons, eagles, otters, seals, as well as humans. In addition, these vast eelgrass meadows trap carbon in the mudflats, which keeps it from becoming greenhouse gases. This is why Padilla Bay was selected to be a National Estuarine Research Reserve.
Learn more about the Reserve
The Padilla Bay National Estuarine Research Reserve was created by the Washington Legislature and U.S. Congress in 1980. It is managed by Ecology to protect more than 11,000 acres of critical intertidal and upland habitat in Skagit County. Learn more ​about the reserve and our operations.
The history of Padilla Bay
From its earliest settlers to today, Padilla Bay has a rich history of conservation. To learn about Padilla Bay from past to present visit our history page.

Related links