Everett Smelter cleanup
We are cleaning up lead and arsenic contamination left behind by the Everett Smelter, in residential and industrial areas of Northeast Everett. We are also encouraging property owners and residents near the former smelter to enroll in our free soil sampling program to see if they qualify for soil replacement.
Asarco operated the Everett Smelter from 1894–1912, but contamination wasn't discovered until 1990. Smelter operations left high levels of arsenic and lead on the former smelter property. Contaminated particles from the smokestacks settled over a 1.1 square mile area.
We're more than halfway done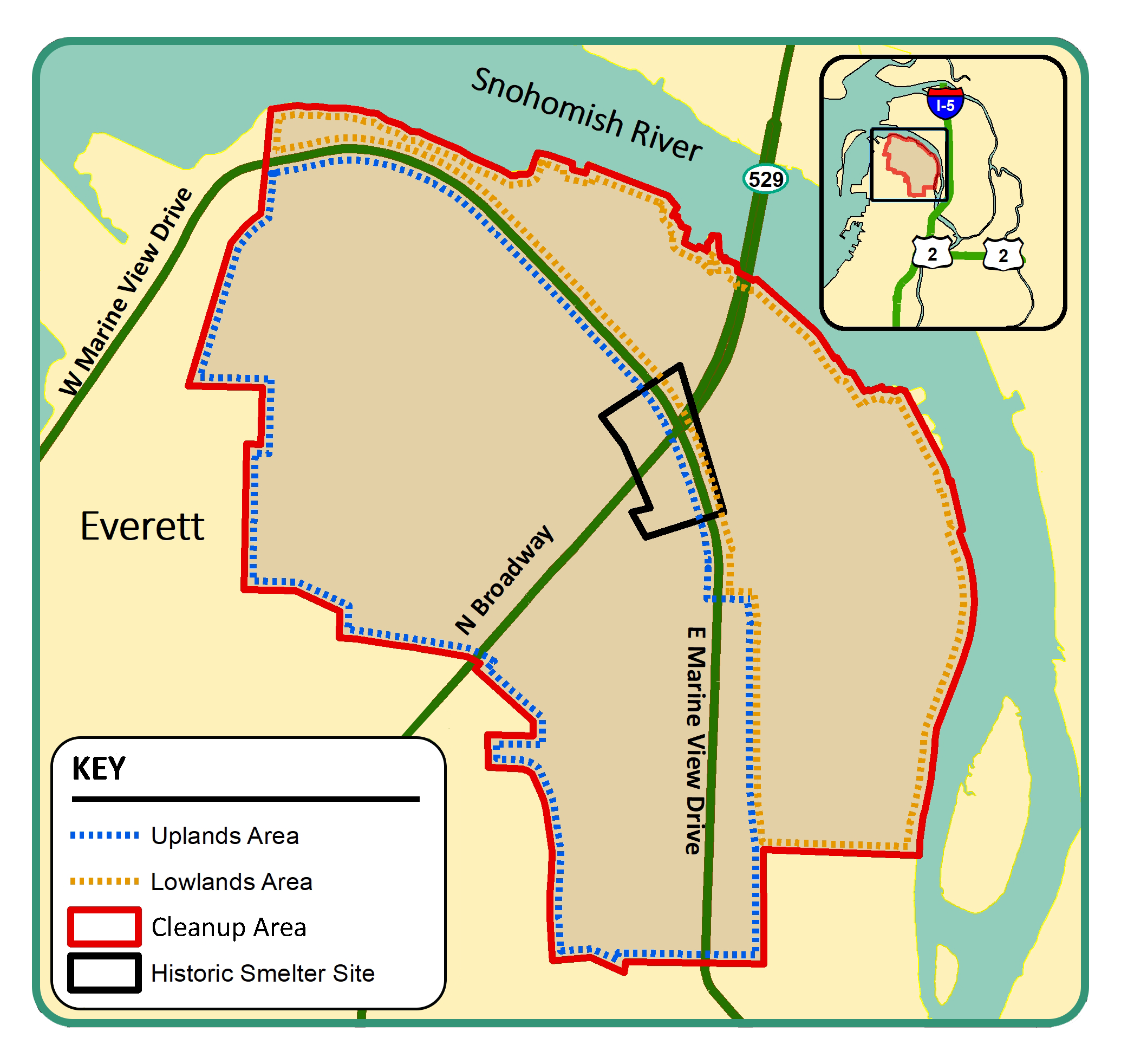 We've completed cleanup work on more than half of the roughly 700 homes in the uplands area and at American Legion Memorial Park. We've sampled for contamination at all the properties that requested it. Read more details about cleanup progress.
From 1999–2007, we cleaned up the most highly-contaminated areas, including the former smelter property. In 2009, we received funding through a bankruptcy settlement with Asarco to continue cleanup work. From 2009–2019, we spent most of the settlement funds on residential cleanups in the uplands area and on developing a cleanup plan for the lowlands area.
In 2019, we received funds from the Legislature to continue cleanup.
Work progress in 2023
Uplands
As of March 2023, soil cleanup construction for the 2019 cleanup group is now complete. All cleanup plans and designs are now finalized for the 2020 cleanup group. Construction will begin for this group in the coming months. We will continue to draft cleanup plans for the 2022 cleanup group throughout the first half of this year.
Lowlands
We will continue to work with the City of Everett to improve the existing stormwater drainage system in northeastern Everett by repairing cracks in this system of pipes. These repairs will help decrease contamination from the smelter area from reaching the Snohomish River.
Learn more in the March 2023 community-wide update.
Related links