Washington Coastal Zone Management
We administer Washington's Coastal Zone Management (CZM) Program, which meets the broader national interests of protecting, restoring, and responsibly developing the state's marine shorelines in Puget Sound and along the Pacific Ocean coast.
Management activities
We meet the goals of the Coastal Zone Management Act through a comprehensive approach to coastal resource management. This work requires us to balance the often competing — and occasionally conflicting — demands of coastal resources use, economic development, and conservation. We work with partners to achieve this mission and focus our efforts on these key priorities: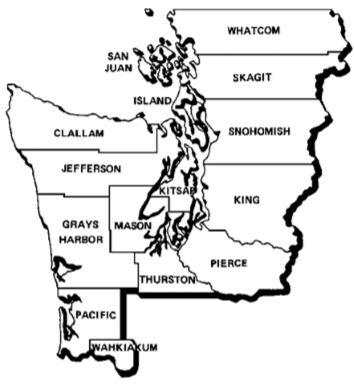 Washington's coastal zone
Washington's CZM program applies to the state's coastal zone, which is comprised of the 15 coastal counties with marine shorelines, including Wahkiakum. The coastal zone includes all lands and waters within these coastal counties, as well as submerged lands seaward out to three nautical miles (about 3.5 miles). The coastal zone is not limited to areas under Shoreline Management Act jurisdiction.
Excluded from Washington's coastal zone are tribal lands and lands the federal government owns, leases, holds in trust, or otherwise has the sole discretion to determine their use. These "excluded federal lands" include, but are not limited to:
Tribal lands held in trust by the federal government.
Military reservations or other defense installations (e.g., Joint Base Lewis-McChord and Naval Air Base Whidbey Island).
All lands within national parks (e.g., Olympic National Park and Mount Rainier National Park).
National forest lands and national recreation areas owned or leased by the federal government.
By participating in this voluntary federal-state partnership, we work with NOAA's Office for Coastal Management to design and administer a program that best reflects our state needs and local circumstances. Our federally-approved program is important because it means we are eligible for federal coastal zone funding which support core management activities and special enchantment projects. Having a federally-approved program also provides the state the authority to review federal actions for consistency with the enforceable policies of the program. The
federal consistency provisions
of the federal Coastal Zone Management Act require that federal actions, including the issuance of federal licenses and permits be consistent with the enforceable policies of Washington's Coastal Zone Management Program.
Our partnership with the federal government enhances our work by creating a mechanism for better agency coordination and collaboration, and it provides additional funding that strengthens our capacity to partner with, offer assistance to, and plan for the future needs of coastal communities.
Washington does not have a stand-alone program for coastal zone management. Instead, we fulfill our national Coastal Zone Management Act requirements through a network of state laws and regulations. The
structure and policies of our program
allow us to manage coastal resources in a more locally relevant and comprehensive way that fits our state priorities. In 1976, Washington became the first state in the nation to receive federal approval of a Coastal Zone Management Program.
In partnership with NOAA's Office for Coastal Management, we periodically perform a
program evaluation
to assess the effectiveness of Washington's coastal management efforts and develop five-year strategic
program enhancement plans
that meet both state and broader national interests.
Related links
Contact information
Questions or submissions for CZM federal consistency certification review
Ecology Federal Permitting Team
fedconsistency@ecy.wa.gov
360-407-6076

Questions about Washington's CZM Program operation and implementation
Henry Bell
henry.bell@ecy.wa.gov
360-628-2750