Goldendale Energy Storage Project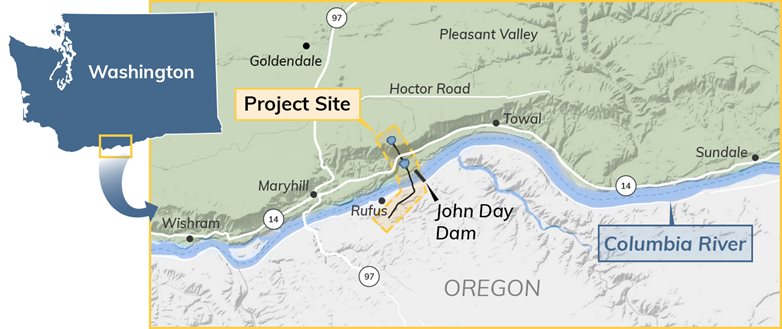 Free Flow Power Project 101, LLC (FFP Project) proposes to build an off-channel energy storage system next to the Columbia River in Goldendale. The system would release water from an upper reservoir downhill to a lower reservoir to generate energy. Power produced would feed into the electrical grid at the nearby John Day Substation when other renewable sources, like wind and solar, are unavailable.

Clean Water Act Section 401 water quality certification
On May 22, 2023, we issued a water quality certification for the Goldendale project.
The certification includes conditions so that the project's construction and operation would meet state water quality requirements. The conditions include specific best management practices, requirements to obtain future Ecology permits, and monitoring and notification requirements.
This certification is specific to water quality requirements and is just one of many permits and licenses needed before the project can be built. Issuing it does not mean the project will immediately move forward. Ecology and other government agencies still need to review and issue additional permits and licenses.
Under Section 401 of the federal Clean Water Act, Ecology reviews federally approved proposals to determine if they meet water quality requirements.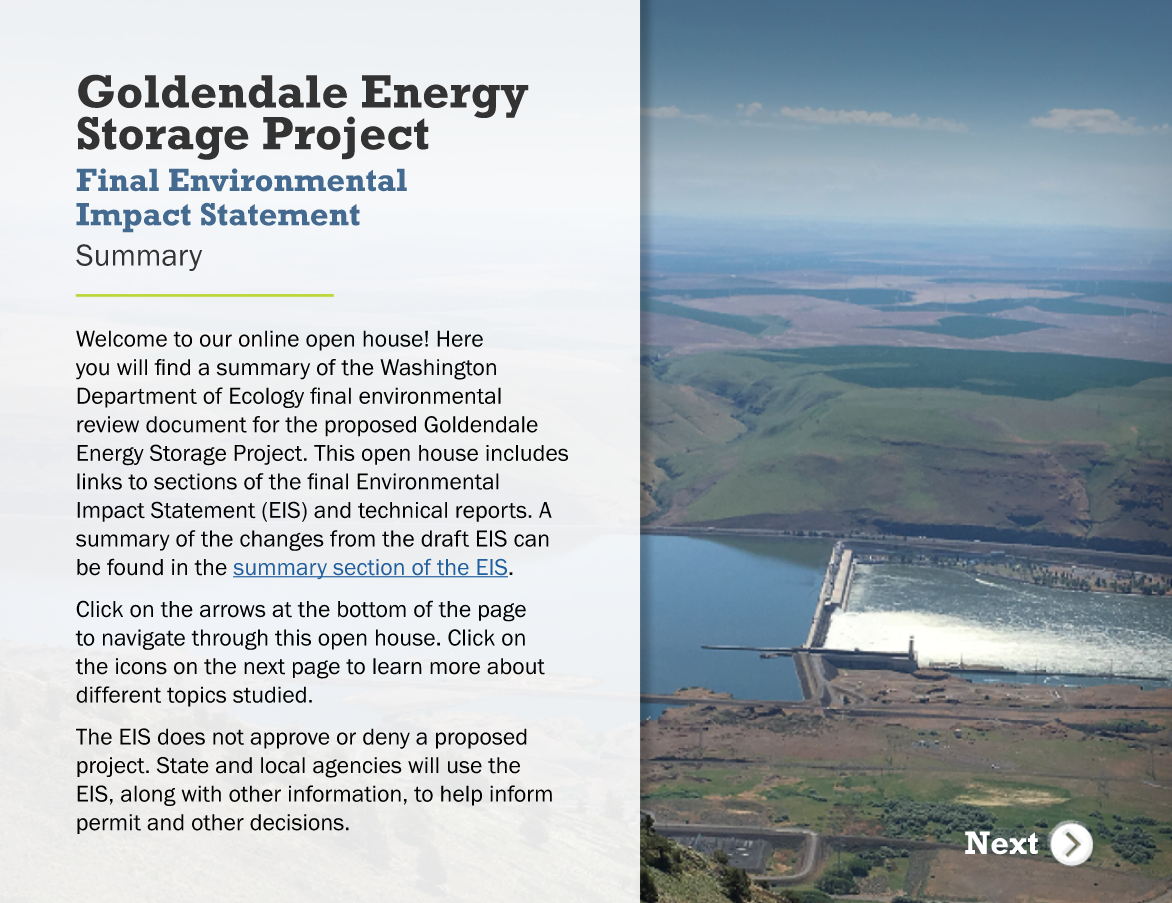 Environmental impact statement
On Dec. 21, 2022, Ecology released the final Environmental Impact Statement (EIS) for the Goldendale Energy Storage Project. The EIS examines significant adverse environmental impacts if the project is built. The document also identifies if those impacts may be reduced or eliminated through mitigation measures.
The EIS process began in January 2021 after we determined that the project would likely cause significant adverse impacts. We released the draft EIS on June 6, 2022, followed by three public hearings held throughout a two-month comment period.
Para más información, favor de comunicarse con Meg Bommarito al 425-681-6236.
Next steps
The EIS helps inform permitting decisions and does not determine whether a project moves forward.
Significant findings in the final EIS
The EIS describes local impacts to air quality, plants and animals, transportation, water resources, and water quality. The analysis also recognizes significant impacts to Tribal rights, traditions, and heritage at the proposed project site.
Terrestrial species & habitat impacts
Disturbance of plants and animals during 5-year construction period
Permanent habitat loss of 193.6 acres
Temporary habitat disturbance of 54 acres
Impacts to special status species including golden eagle, little brown bat, smooth desert parsley, and other rare plants
FFP Project proposed mitigation to reduce these impacts. Plans include purchasing additional property for wildlife habitat, conducting animal surveys before and after construction, and timing construction around eagle nesting season.
Tribal cultural & natural resource impacts
The EIS considers impacts to cultural sites and treaty-reserved resources of the Yakama Nation, Warm Springs, Nez Perce, and Umatilla Tribes. Impacts include:
Disturbance or destruction of several archaeological sites and sacred cultural areas
Degradation of the visual quality of the landscape, interrupting cultural and spiritual practices
Disturbance of plants and animals that have cultural significance to the Tribes, which includes the loss of medicinal and traditional plants
Reduced access to treaty-reserved hunting and gathering areas
FFP Project supplied proposed mitigation measures to reduce Tribal impacts. However, to date, there is no mitigation that has been proposed or supported by Tribes.
Past public hearing recordings
We held one in-person and two virtual public hearings during the draft EIS comment period in 2022.
We considered all public comments received, and some led to minor changes in the final EIS.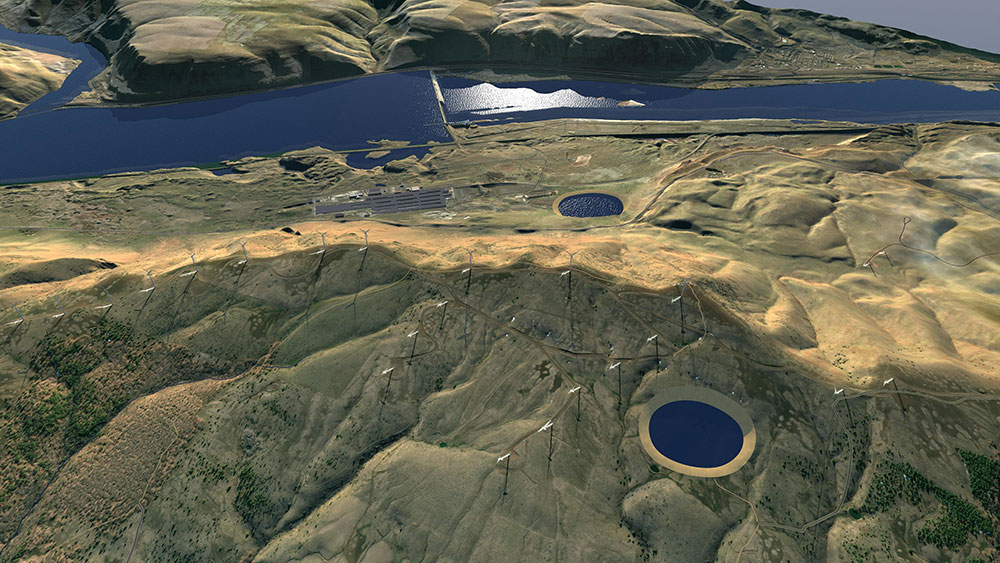 Project Scope
Water for the Goldendale Energy Storage project would be drawn from the Columbia River under a permit that once served the aluminum plant. FFP Project plans to purchase water from the Klickitat Public Utility District. Project plans call for the lower reservoir to be filled once, with annual supplemental fills.
The lower reservoir would be located on a portion of the former Columbia Gorge aluminum smelter, a toxic cleanup site. The site requires cleanup regardless of whether or not the Goldendale project moves forward. We are developing a cleanup plan with FFP Project to address the remaining contamination.
The project is expected to generate up to 1,200 megawatts of electricity and includes:
Two reservoirs
A 2,400-feet gross elevation gain with no river or stream impoundments
An underground water tunnel and powerhouse
115- and 500-kilovolt transmission lines
An electrical substation/switchyard and related facilities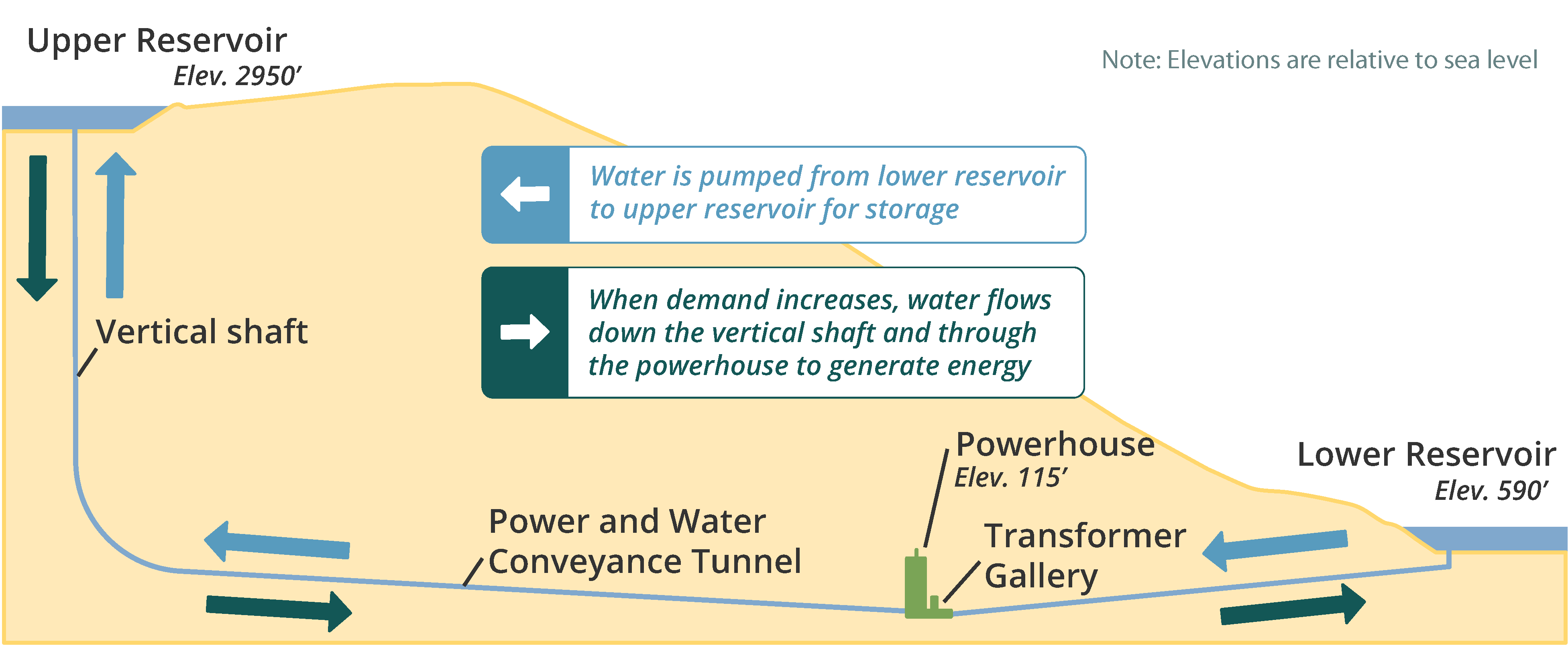 Project timeline
| Date | Activity |
| --- | --- |
| June 2020 | FFP Project submitted 401 water quality certification application and draft checklist to Ecology |
| Sept. - Nov. 2020 | Ecology held public comment period on the 401 certification application |
| Oct. 29 - Dec. 28, 2020 | Federal Energy Regulatory Commission held a comment period on the scope of the National Environmental Policy Act federal environmental review |
| Dec. 2020 | FFP Project submits final signed State Environmental Policy Act (SEPA) checklist |
| Jan. 14 - Feb. 12, 2021 | Ecology held comment period on the scope of the SEPA environmental review (EIS) |
| June 2021 | Ecology denied 'without prejudice' the 401 Water Quality Certification due to insufficient information. |
| May 23, 2022 | FFP Project submits second 401 water quality certification application. |
| June 6 - Aug. 9, 2022 | Ecology held comment period on the draft EIS. |
| Dec. 21, 2022 | Ecology released final EIS. |
| May 22, 2023 | Ecology issued Clean Water Act Section 401 water quality certification. Certification issued with conditions. |
Frequently Asked Questions